Baylor's record-breaking rout of Prairie View no surprise to Lady Bears coach Kim Mulkey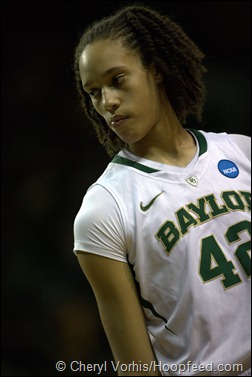 Brittney Griner had six blocks in Baylor's rout of PVAMU
WACO, Texas –  Baylor won its ninth straight first-round NCAA game Sunday night in a rout of No. 16 seed Prairie View A&M in front of a rowdy crowd of 8,368 in Waco. While the final score was 66-30, the Lady Bears held the Lady Panthers to eight first half points, an opponent season low, a record previously held by Kansas when Baylor beat the Jayhawks this past January. PVAMU's low scoring first half also established an all-time NCAA Tournament record for opponent first-half low for all rounds.
Baylor head coach Kim Mulkey did not express surprise at her team holding PVAMU to a record low.
"Same thing we have been doing all year. We just guard people," she said. "We are pretty proud that we lead the NCAA in field-goal percentage defense. It is telling people across the country that when you score on Baylor, you are going to score with people in your face. We didn't do anything different than we normally do, just play hard and make sure you guard people."
The Lady Panthers came out aggressive and showed no fear in matching up against Baylor, but offensively, they had no firepower. The Lady Bears jumped out to a 16-0 lead and PVAMU finally scored at 10:58, .a jumper by Waco native, senior forward Robin Jones.
Brittney Griner and Brooklyn Pope scored 17 points each to lead the Lady Bears while Kimetria Hayden added 12. In the rebounding column, Melissa Jones had nine, Griner eight and Pope pulled down seven. Griner also added six blocks. Destiny Williams had four blocks. Mulkey gave each player some time on the floor; no Lady Bear played more than 28 minutes and all but three scored.
Freshman Siarra Soliz registered 12 points for PVAMU, the only player to score in double figures for her team.
The Lady Bears went into the break with a 36-8 lead after holding PVAMU to an abysmal 11.1 percent shooting in the first half. Baylor shot 59.3 percent from the floor before the halftime.
"Baylor came out aggressive. We could not hit," said PVAMU head coach Toyelle Wilson. "We had a few open shots, just did not hit. I know I said from the beginning that we were going to have to score. We screened, we just did not hit shots."
In the second half, it was more of the same, PVAMU managed to eke out a 27.3 shooting percentage but it was nowhere near what they needed to accomplish to have a chance against Baylor.
Soliz talked about how Baylor's star center Griner affected her game.
"I think she really made a difference in the paint," said Soliz. "Usually I go in strong and I get contact and I get fouled and go to the line, but I had to really adjust. I had to double pump and even more and I still couldn't get it off. So she really made a difference in the game."
PVAMU senior guard Dominique Smith also addressed Griner's impact.
"As far as Griner, that 7-1 wingspan, it's a beast," said Smith. "For me, honestly, I feel like it didn't really alter my shot. I was just trying to attack. I went to the basket a couple of times, it got blocked a lot, that's basketball. So I mean, no fear, and she's a competitor, so, what can you say."
Wilson praised the preparation of the Lady Bears and their overall mindset.
"You can tell that Coach Mulkey has those girls on another level and they have something they are trying to prove," said Wilson. "They only scored 66 points. We always tell our people that we want our opponents to score 60 points or less. You can credit that they only played 28-29 minutes, but they only scored 66 points. We just could not score. We had nobody step up the whole game."
Baylor is set to face No. 9 seed West Virginia in the second round game on Tuesday at 8:45 p.m. CDT in Waco. West Virginia defeated Houston79-73 in the first game of the day in Waco in the Dallas Region of the tournament.
Prairie View
Stat Leaders
Baylor
Soliz
12
Pts
17
Griner/Pope
Henry
5
Rbs
9
Jones
3 Players
1
Assts.
4
Madden
Soliz
2
Stls
2

Pope/Sims

Williams
1
Blks
6
Griner
Baylor is now 14-0 against Prairie View A&M.
Baylor is now 20-8 in NCAA Tournament games.
Prairie View's 30 points were the lowest since the Lady Bears held Texas State to 18 points on Jan. 2, 2010, and lowest-ever in an NCAA Tournament game (previous low was 33 by Georgetown, March 22, 2010).
Baylor remains perfect at home this season at 20-0.
Griner's 6 blocks marks her 36th game with five or more blocks.