East beats West 78-66 in McDonald's All-American game, MVP Elizabeth Williams sets records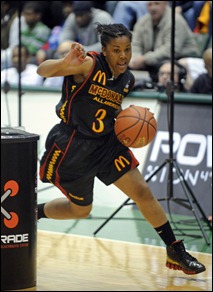 Ariya Crook Williams (Long Beach Poly, Long Beach, CA) won the skills competition in Monday night's Jam Fest.
Led by the record-setting performance of Duke-bound Elizabeth Williams (Princess Anne High School, Virginia Beach, VA) who had 23 points and 11 rebounds, the East beat the West 78-66 Wednesday night in the 2011 McDonald's All-American game. Ariel Massengale, who is signed to Tennessee, added 13 points to the East's score along with four assists. Williams was named the MVP of the game.
Williams record broke the previous mark held by Alexis Hornbuckle who now plays in the WNBA for the Minnesota Lynx.
Around the Web