Here we go again: A fourth round for Baylor and Texas A&M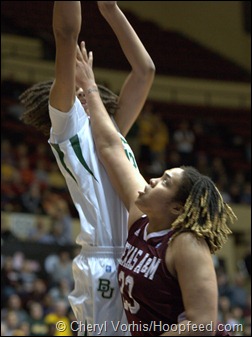 Brittney Griner shoots over Danielle Adams during the Big 12 Championship Game on March 12, 2011
Tuesday, March 29, 2011, 8:07 p.m. CDT
TV: ESPN/ESPN3.com
Radio: 92.9 FM, Rick May (pxp), Lori Fogleman (color)
Live Stats: www.baylorbears.com
DALLAS – What more can be said about the fourth game this season between Baylor (34-2) and Texas A&M (30-5)? Apparently, a lot. Since two weeks ago, when the brackets revealed that the two top teams in Texas were placed in the same region of the NCAA tournament, the buzz about the possibility of the matchup among fans, players, coaches and reporters has filled online message boards, social media spaces, press conferences and news reports.
The head coaches of both teams have been vocal about their thoughts on the placement of two Big 12 schools, just over 100 miles away from each other, in the same region.
Baylor head coach Kim Mulkey was surprised at the placement.
"It was a shock to me that they would do that to us. It was a shock," she said. "And Gary knows it was a shock to him. When we shook hands at the Big 12 Tournament, we were like we can get there, we're telling each other we'll see you in the Final Four. That's basically the conversations that were taking place between me and him and the players."
She also discussed the factors that may go into deciding where teams play but continued to express disappointment.
"Is it good for women's basketball? I don't know that it is," she said. "I'm not sure that Baylor needed A&M here to sell tickets. And I'm not sure if A&M was here without Baylor they would need Baylor here to sell tickets. I don't buy putting rear ends in the stands. So it is what it is. And we're going to always have agendas in women's basketball. But I just hate it because both teams are good enough to be in the Final Four, more so than, in my opinion, the other regions."
Hoopfeed.com covered the first three contests between the teams this season. Each battle came down to waning stretch of the game and Baylor always prevailed but not without a struggle. The hard fought contests were filled with drama, amazing displays of defense and gutsy offensive plays. A major factor that kept A&M on the losing end was the lack of offensive production of senior Danielle Adams, the Big 12's second-leading scorer at 22.7 points per game. Adams led the league in scoring up until Sunday. Griner's 40-point performance in Baylor's defeat of Green Bay in a Sweet 16 contest put her in the top spot at 23.1 points per game.
Adams has never scored more than 13 points against Baylor over the past two seasons. The defensive assignment to guard her this year fell on Destiny Williams, the red-shirt sophomore transfer from Illinois. Williams received help from another transfer, red shirt sophomore Brooklyn Pope who joined Baylor from Rutgers. Williams was modest in her reply to a question about her success against Adams in Monday's team press conference.
"Yeah, me and Brooke may hold her throughout the majority of the game," she said, "but it's Baylor's team defense who keeps her from scoring a lot of the time. And we just have to keep her off the boards…And I just gotta be with her no matter where she is."
Williams, who has started the last nine games, is a tag team with Pope, who comes off the bench most of the time, according to Mulkey.
"They both are starters in my eyes," she said. "I just can't start but five, and I start Destiny and get a feel during the game on when I need to insert Brooklyn."
Griner was named the 2011 WBCA Women's Basketball Coaches Association National Defensive Player of the Year today.
Both regular season games between the two teams were sellouts. Overall, Baylor has defeated A&M eight times in a row.
Game 3 – March 12, 2011 – Big 12 Championship, Kansas City, Missouri – Score: 61-58
Game 2 – February 14, 2011 – Waco, Texas – Score: 67-58
Game 1 – January 30, 2011 – College Station, Texas – Score: 63-60
Previews from around the Web