Texas A&M breaks a spell and advances to the Final Four for the first time, beats Baylor in Elite Eight 58-46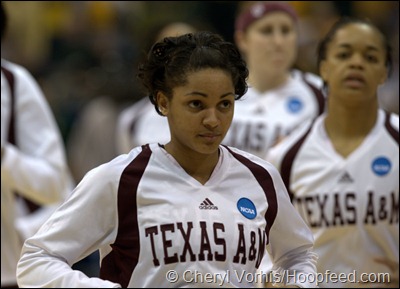 A&M's Sydney Carter was named the region's Most Outstanding Player
DALLAS – Texas A&M took a page out of Notre Dame's book Tuesday night by breaking a losing streak and winning a game against a longtime rival beating Baylor, 58-46. The night before, Notre Dame overcame a 0-20 record against Tennessee in the Dayton Region of the NCAA tournament to advance to the Final Four for the third time.
A&M's eight-game losing streak against Baylor was punctuated by the fact that the teams were meeting for the fourth time in just one season, with the last coming in the Dallas Regional final. From the outset, A&M pounced on the Lady Bears, disrupting Baylor's offense and outworking them. A&M amassed a 10-point lead within the first six minutes of the game. The bulk of the early scoring came from junior guard Sydney Carter.
In fact, Carter, named the region's Most Outstanding Player, was somewhat of a one-woman show with seven of A&M's first 10 points coming from the player from nearby DeSoto who had numerous brothers, sisters, and friends in the audience. She had a first-half career-high 15 points and finished the game with a season-high 22 points. She talked about breaking the losing streak against Baylor.
"We came out and fought hard and the end result, the score at the end of the game showed how hard we worked and showed that we really came out focused tonight," she said, "and we put that 0-3 past behind us and just came out and played together."
Her teammate, senior guard Sydney Colson praised her performance and talked about the strategy to have Carter going on both ends of the floor early on in the game.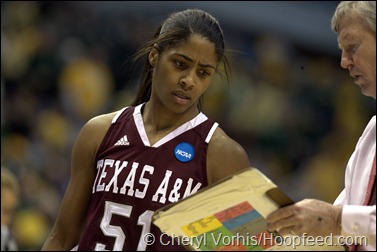 Sydney Colson receives instruction from coach Gary Blair.
"That's always part of the game plan," said Colson, "she's a pure shooter when she gets going, feeling her shot, coach and I, we consistently want to keep running plays for her because she's really feeling it. And she's in a rhythm. So that's what we kept doing, and she was knocking them down. And we didn't want to take anything away from her. We don't want to go away from her when she's hot and feeling it."
Baylor finally managed to score at 14:39. BU senior Melissa Jones made a jumper, and the majority of the rest of her team's points came from sophomore center Brittney Griner who finished the half with 10 points.
Before the break, Baylor shot 26.9 percent from the field and had 11 turnovers. On the other hand, A&M shot 41.2 percent from the field and only had five turnovers. Texas A&M led 32-21 at the half.
Baylor came out in the second half calmer and more composed. Their defense led to A&M committing a turnover, and a quick layup by Lady Bear Kimetria Hayden was the result. The teams traded baskets, going back and forth for much of the half, but because Baylor began the second half with a deficit, they could not get closer than seven. A 6-0 run by A&M beginning at 3:05 sealed the deal and effectively put Baylor's chances at a comeback beyond reach.
In each game between the two teams for the past two seasons, A&M's leading scorer and the Big 12's second-leading scorer Danielle Adams has failed to score more than 13 points, a factor in the Aggies' previous losses. However, on Tuesday night, A&M was prepared to come out with a win no matter how little Adams produced. She finished with six points and four rebounds.
"This team is not about one person," said A&M head coach Gary Blair. "When Danielle Adams only played and scored six points, I believe in the ballgame, she was the happiest person for her teammates, and that's why a lot of kids want to play at Texas A&M because of our system and how we use kids, and we'll run the offense through anybody that's hot. So if it's little Sydney Carter at 5'6″, she's going to get the majority of the plays. If it's Tyra White, six-foot-tall that had 29 at Baylor, we'll run it through there. If it's Danielle Adams, we'll run it there, and Colson will direct the show."
Baylor senior guard Melissa Jones attributed A&M's success to their guard play.
"You're talking about some of the best guards in the nation," said Jones. "A&M is a great team. Nobody wants to go up against them. They're just tremendous athletes. They play well together. They're a team. And they know how to get excited when it's necessary, and they come up with big steals and just are just smart players. And you gotta respect them."
Her coach agreed.
"The difference in the ballgame was guard play," said Baylor head coach Mulkey.
For the Lady Bears, their leading scorer, Griner, who had 40 points in the team's victory over Green Bay on Sunday, went 3 of 10 from the field in the first half. She attributed that statistic to "poor shooting" and also mentioned the team's youth, a squad that plays with only one senior on the floor for the majority of minutes, including three sophomores and one freshman.
"We're young," she said. "…I mean, the future's bright for us. We just gotta get in the gym, get everybody on the same page, get everybody mentally tough, and that's about it."
Well Wishes
Mulkey and Blair have known each other for years and have camaraderie like competitive, joking but respectful siblings. While they both engage in ribbing each other, providing laughs for media and fans, they have deep respect for each other's programs. Indeed, both seemed to harbor bittersweet feelings before the night's game, lamenting that one of them would lose and leave a team behind in Texas that could have also been a Final Four participant. Blair praised the Lady Bears and their gutsy senior guard Melissa Jones.
"Baylor is a great team," said Blair. "They've got the best player in America in Brittney Griner, one of the best freshmen in Odyssey Sims and Melissa Jones; she's the heart and soul of that basketball team. And the day she graduates, they will miss her more than Brittney Griner when she graduates, because Melissa Jones is what women's basketball is all about. A kid paying the price that will play hurt and play smart and what an ambassador she is to her program."
While the Aggies are moving on this year, he looked to the future for Baylor and their head coach's resilience.
"I would like to congratulate Kim," he said, "on everything that she has done for her program. She'll be back in next year. Don't worry about my girl Kim. They're that good, and they've got more ammunition coming in."
During the course of the preliminary rounds of the championship, Mulkey talked about her disappointment in being placed in the same bracket as A&M. And Tuesday night. She continued to expound on the issue even after saying, "I've harped on that enough" to start her reply. Now that the game is over, Mulkey is putting her support behind A&M so a Big 12 team can bring home the trophy.
"I want to congratulate A&M, and I hope that they go to the Final Four and win the whole thing so that they will represent the Big 12 well."
A&M faces Stanford on Sunday in Indianapolis at 6:00 p.m. CDT. The game will be televised on ESPN. Texas A&M will celebrate the team on Wednesday, March 30, at noon at the Cox-McFerrin Center.
NCAA Dallas Regional All-Tournament Team: Most Outstanding Player Sydney Carter (Texas A&M), Brittney Griner (Baylor), Kayla Tetschlag (Green Bay), Danielle Adams (Texas A&M), and Melissa Jones (Baylor).
The Aggies held the Lady Bears to their second-lowest scoring output (45) of the season.
Texas A&M's 12-point victory was its 27th double-digit win of the season.
A&M improved the all-time series with Baylor to 36-47 and broke a streak of eight straight Baylor wins.