Black Coaches and Administrators Report: Hires of nonwhites in head coaching positions in women's basketball decline
Hiring of nonwhite coaches in women's college basketball has declined according to a study released by the Black Coaches and Administrators (BCA) group. The report "'Scoring the Hire:' A Hiring Report Card for NCAA Division I Women's Basketball Head Coaching Positions" compares hires from the period 2009-2011 to previous periods. The report was compiled by Dr. Richard Lapchick, the director of the Institute for Diversity and Ethics in Sport at the University of Central Florida.
"Among the several encouraging signs from this year's report card, our evaluation indicates that universities appear more committed to conducting an inclusive interview and hiring process. Five of the 18 available head coaching positions were filled by coaches of color," Lapchick's team wrote in the report's summary. "In identifying positive and negative trends between reports, it is hoped that this research will be valuable in assisting universities in their future hiring processes and subsequently, calling attention to the need for diverse leadership in collegiate athletics."
Six schools are in the study from the 2009-2010 hiring season and a total of 12 schools for the 2010-2011 hiring season. Schools were graded on communication, search committee, candidates and time frame. Eleven schools received an A, four received a B, two received a C and one school, Virginia Tech, received an F. Virginia Tech hired former Vanderbilt standout Chantelle Anderson as an assistant in mid-April. The school has a new women's basketball head coach, Dennis Wolff. He was hired on March 22 shortly after Beth Dunkeberger resigned on March 14. Dunkerberger was at Virginia Tech for seven seasons.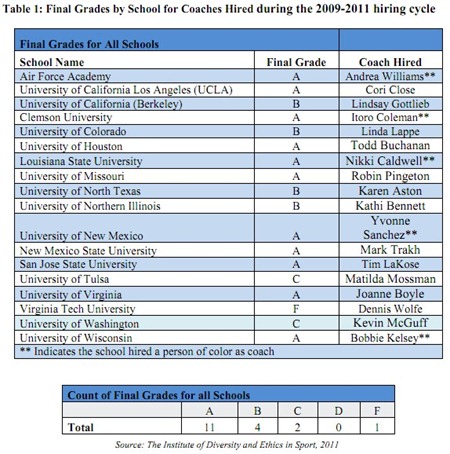 Source: Black Coaches and Administrators
The institute released its first hiring report card in 2008.