Getting to know the Tulsa Shock's Amber Holt: The forward talks about Tulsa's tough first season and her hopes for 2011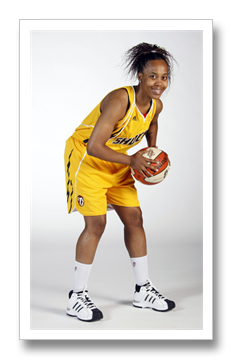 The first year of the Tulsa Shock was a rough one. With a revolving roster, player discontent and an abysmal record, the team had few bright spots. Even with the ever-optimistic demeanor of rookie Marion Jones frequently greeting the media, the sunny disposition of the former track star could not hide the fact that the team's all-around performance in 2010 was subpar. In spite of the hard year, the team did manage to have some continuity on its roster and earn support from fans in Tulsa.
Besides Jones, Tulsa's other bright spots included former Middle Tennessee star Amber Holt who arrived from the Connecticut Sun as a result of a 2010 Draft deal. The two other players who remained on the roster throughout last season, Chante Black and Shanna Crossley, will not play this summer due to injury.
Holt, who averaged 8.7 points per game and 3.1 rebounds per game last year, spent the offseason in Hungary playing in the EuroLeague for MKB Euroleasing Sopron. The Duluth, Georgia native took some time to answer questions from Hoopfeed.com about the difficulties of last season, the upcoming season, Shock newcomers, her first two years in the league and the death of Middle Tennessee player Tina Stewart in March.
Q: You started out with the Connecticut Sun in 2008 and made the WNBA All-Rookie team, were you pleased with your rookie year?
A: Being on the all rookie team was a great accomplishment and an honor but I thought my rookie year by my standards was just mediocre. I didn't have the kind of year that I wanted. I expect a lot of myself and there were parts of my game that I needed to improve and get better. Overall I feel it was mediocre but productive
Q: Did you have any inkling back then, before the start of the 2009 season, that you would be traded to a new team?
A: I didn't think I was going to get traded but it didn't surprise me either with all the other players that Connecticut brought in but I'm thankful for Tulsa giving me an opportunity and I'm going to give this organization everything I got.
Q: What were the highlights of your first year in Tulsa?
A: Definitely getting our first win at home. Our fans are great and they support us also coming into a new city, new organization, and new system was really good and exciting for me!
Q: What were the most difficult challenges you faced as an individual player and then as team, especially with all of the player changes?
A: As a player coming out of college I had to get adjusted to the speed of the [WNBA] game but now that I'm a veteran I feel as though I have done a good job and adjusted well. As a team it was a hard transition to get familiar with your teammates, learn their likes and dislikes on the court and then all of a sudden they are gone and you have to repeat that same process over again. It was just hard to establish that team chemistry and continuity.
Q: How do you feel about Teresa Edwards joining the team as an assistant? What have you learned from her so far?
A: It's been great to have her on our coaching staff. She has played in the WNBA and has a lot of knowledge about the game. I'm looking forward to working with her this year and learning as much as I can to help improve my game.
Q: What are your thoughts on having veterans on the squad such as Sheryl Swoopes and Betty Lennox?
A: It's good to have them on the team. They bring championship experience and leadership. They will be able to help the younger players and teach them things about the game and about this league.
Q: Are you excited about the addition of Liz Cambage to the roster?
A: I'm very excited to have her on the team. She brings a definite post presence. She is very skilled to be her size. She will be a great addition to our team.
Q: On a personal level, how do you feel you have fared so far in camp?
A: I think I have done well so far. I've gotten better in some areas of my game but I feel like there is still room for improvement. I'm definitely ready to put in the hard work and effort.
Q: What did you work on this year while playing overseas to enhance your skills and get ready for the 2011 WNBA season?
A: I worked on all areas of my game but I specifically tried to focus on my shooting, defense, strength and conditioning.
Q: What are you most looking forward to this season with the team and what are you hopes for how the team will fare throughout the summer?
A: I'm looking forward to us coming in everyday working hard and trying to develop some chemistry. I just want us to play more as a team this year and, of course, I want to win more games than we did last season.
Q: Middle Tennessee has had some great success in the past few years but this year your alma mater also had to deal with the tragedy of Tina Stewart. What was your reaction to her death?
A: It was very shocking and very sad to see. You never want to see anyone lose their life. She was loved by many people especially her family, friends and teammates.
Q: Are you happy that fellow Middle Tennessee alumna Alysha Clark is back in WNBA training camp with San Antonio?
A: It's good to see her back and have a chance at making a WNBA roster. I wish her nothing but the best. I'm sure she will do well.
Q: What are your thoughts on the new WNBA President, Laurel Richie?
A: I have heard good things about her so hopefully she will come in and do a great job. I'm sure she has a great plan and strategy to try and help our league get to the next level.