Malgorzata "Margo" Dydek touched the hearts of fans all over the world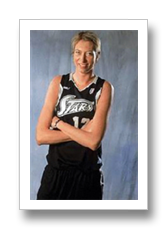 Malgorzata "Margo" Dydek did not stand out just because of her height, her seven-foot two-inch frame towering above everyone. She also stood out because of her humanity, a "gentle giant" who was warm-hearted with a good sense of humor. She was a kind spirit with the wizened demeanor to even have empathy for those who openly gawked and made callous remarks about her size.
Born in Poland to tall parents, Dydek suffered a heart attack last Wednesday morning at her home in Brisbane, Australia. Her husband was home at the time and she was rushed to the hospital. Dydek, who was pregnant with her third child, was placed in a medically induced coma. Efforts to bring her out of that state on Sunday failed.
Her older sister Katarzyna Dydek told the press early this week that the family remained confident but Margo never recovered. She died early Friday morning. She was 37. Her unborn child also died.
"It's a very sad day not only for us but for Margo's many, many friends across the globe." said Cathie Roberts, a manager with Northside Wizards Basketball, in an email to Hoopfeed.com. Dydek was a coach for the team.
The team posted this message on their website:
"With great sadness we acknowledge the passing of our 2010 development league women's coach Margo Dydek. Margo suffered a heart attack last Thursday and passed away this morning, peacefully and surrounded by her family.

RIP Margo from your many friends at Northside Wizards. You were a much-loved member of our community and we will miss you greatly. Our hearts go out to your family, David and your beautiful boys xx"
Dydek was the number one pick in the 1998 WNBA draft. The Utah Starzz chose the 7-2 player who for several years was the tallest active women's basketball player in the world. She joined the San Antonio Silver Stars when the Starzz moved to Texas under new ownership. She also played for the Connecticut Sin and the Los Angeles Sparks.
She is the all-time league leader in total blocks (877) and blocks per game (2.72). She is seventh all-time in rebounds (2,143).
" We are sorry to hear the news of the passing of Margo Dydek," said Silver Stars head coach and general manager Dan Hughes in a statement. "We wish to extend our thoughts and prayers to her family and all that loved her. We so appreciate all the contributions she made to our franchise and the WNBA."
Affectionately called "Large Marge," she was popular with her teammates and fans. Players on teams throughout the WNBA and the world of women's basketball posted heartfelt messages on Twitter, Facebook and websites about Dydek, reminiscing about her graciousness and humor as well as asking for prayers for her health.
Tweets from players included:
Lisa Leslie: "Wow, I am shocked and sad to hear about the loss of such a wonderful person, mom an[d] wife. RIP Margo Dydek! God bless your family!"

Tina Thompson: "My condolences to the family of Margo Dydek, may she rest in peace! Tall in stature and huge in heart, a beautiful person with like spirit!"

Ticha Penicheiro: "Today I lost a GREAT friend + the world lost an amazing, caring, loving woman! Please continue 2 pray 4 Margo's family in this time of need!"

Candace Parker: "Margo Dydek will be greatly missed. Everyone that knew her knows how special she truly was. I am deeply saddened for her children and husband and will keep them in my prayers. #gonebutneverforgotten"
"The WNBA is deeply saddened by the passing of Margo Dydek," said WNBA President Laurel Richie.  "She was a tremendous person, role model and athlete who touched the lives of her many fans and made an indelible mark on women's basketball around the world.  Our thoughts and prayers are with her family."
Former WNBA player, Rushia Brown, organized a prayer call among players on Monday night. Chasity Melvin of the Washington Mystics dedicated a blog entry to her former Lotos Gydnia teammate. Lotos is a team in the Polish league.
Dydek also played on the Polish National Team as well as teams in Spain and France. She was fluent in five languages: Polish, English, French, Spanish and Russian. She credited basketball for giving her the opportunity to see the world and mingle with different cultures to develop her language skills.
Last year she told the Courier-Mail that she felt at home in Australia and even convinced her younger sister Marta to play in the country for the WNBL Logan Thunder. Marta, who is 6-6, played in college for the University of Texas-El Paso. The Thunder signed both sisters to play during the 2009-2010 WNBL season. Katarzyna, played for the now-defunct ABL team, the Colorado Xplosion.
Dydek, who said she never wanted to be a coach, also told the paper that she enjoyed her role coaching young girls.
"I always wanted to give back to the game," she said to the paper, "but thought it would be through running camps for youngsters."
She is survived by her husband, David and two sons, three-year-old David and seven-month-old Alex.
Around the Web