Nike Regional Skills Academy Hampton, VA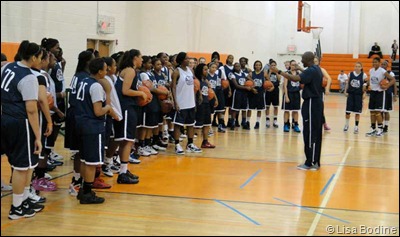 HAMPTON, Va. – This weekend in Hampton, Virginia seventy of the top college prospects in the Mid-Atlantic participated in the Nike Regional Skills Academy.  Lead by uber-trainer Ganon Baker and NBA veteran Dee Brown, the players had a unique opportunity to test their physical and mental basketball skills in a fast-paced competitive environment.
Red, White and Ball
With the USA 16U trials two weeks away the invitees from the region used this weekend to put in some quality work before they head out to Colorado Springs.  Jannah Tucker (6-1, 2013/Randallstown, MD) is a unique combination of size, skill and basketball IQ, as a combo guard she can dominate…Lindsay Allen (5-8, 2013/Bowie, MD) showed off her prowess has a lead guard, including some scoring moves that were Rondo-esque…Having personally witnessed her early morning workouts , it is easy to see why 14-year-old Mikayla Venson (5-9, 2014/Arlington, VA) looked like a seasoned veteran, she is in a class by herself…Post prospect Lynee Belton(6-2, 2014/Clinton, MD) did the one thing you never want to do in front of Ganon Baker **YAWN**.  Surely, her on-the-ball push ups will help her get the upper body strength she needs to mix it up down low. Belton, has a huge upside as a prospect with her length and athleticism it is easy to she her as a 3/4 in college…Tasia Butler (6-1, 2013/Waldorf, MD) showed off her versatility at the wing, she is explosive and has a knack for making plays on both ends of the floor… Mychal Johnson (5-8, 2014/Huntington, WV) was one the most poised players in the gym, everything she does with the basketball looks natural and easy…Lindsay Spann (5-5, 2013/Laurel, MD) is so quick with the ball in her hands, she is one of the few players that can make plays while moving at full speed… Breonn Hughey (5-2, 2014/Washington, DC) the lefty has just the right amount of flavor in her game to make you take notice.  Jamie Cherry (5-5, 2014/Cove, NC) the UNC commit should have been invited to the USA Basketball trails, she was one of the event's stand out players.
Head of the Class
Nirra Fields (5-9, 2012/Mouth of Wilson, VA) from Oak Hill Academy looked like a woman among girls, as she should, with a few years of international competition under her belt as the starting point guard for the Canadian 17U national team…Recent Clemson commit  Jonquel Jones (6-2, 2012/Ellicott City, MD) was a bundle of energy, clearly one of the best overall athletes in the gym, the Bahamian native's basketball skills are catching up with her physical talents…Tiffany Mitchell(5-11, 2012/Charolette, NC) is going to be an exciting player to watch at South Carolina,  her game as a shooting guard should transition nicely to the collegiate level.
Girl Power
Brielle Blair (6-0, 2014/Salisbury, NC) strong solid athlete with a nice skill set..Maya Singelton (2013, 6-0/Indian Head, MD) physical player on defense who can score facing the basket..Da'Lishia Griffin(6-1, 2013/Chesapeake, VA) has a college body and is still learning how to use it…Braysia Hicks (2014, 5-10/Yorktown, VA) guard with a post player's body punishing defender..Atajiah Taylor(5-8, 2013/ Roanoke, VA) strong enough get to the basket in traffic from the perimeter.
Smooth and Easy
Chania Ray(5-9, 2014/Alexandria, VA) combo guard with a long range jumper…Kelila Atkinson (5-11, 2012/Woodbridge, VA) nice lift and elevation on her shot, very efficient scorer…Tyshell King(2013/Baltimore, MD) her ability to pull up in transition and nail jumpers is a major DI skill…Justyce Swango(5-3, 2014/Virgnia Beach, VA) adorable little lefty who isn't afraid to take shots…Kasey Curtis(6-2, 2013/Burke, VA) smooth mid-post game…Faith Randolph(5-10, 2012/Derwood, MD) perfect form and accuracy with the ability to make shots from anywhere on the court.
Scratching the Surface
Chelsey Romero(6-0, 2013/Hampton, VA) raw talent with a strong body, she paid attention to the drills and improved over the course of the event…Infiniti Alston(6-6, 2013/Baltimore, MD) her conditioning program is paying off,  she played hard with a ton of energy…Whitney Bunn Burdette(5-7, 2013/Zebullon, NC) her game isn't flashy but she is very crafty and efficient.
Lisa Bodine is a basketball scout who evaluates high school talent for ESPN Hoopgurlz and The Real Basketball Report.