Q&A: Phoenix point guard Temeka Johnson on the upcoming season, new LSU coaches and more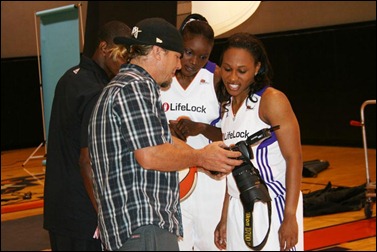 Temeka Johnson (right) looking at the Phoenix Mercury's 2011 Media Day (Josh Greene/PhoenixMercury.com)
Late last week, Temeka Johnson came home from a Phoenix Mercury preseason practice and crashed into a nap. The intensity of head coach Corey Gaines' preparations for the upcoming season exhausted the six-year WNBA veteran but she interrupted her rest to speak on the phone with Hoopfeed.com about her overseas experience in Russia during the offseason, her plans for the 2011 WNBA season, the new coaching staff at her alma mater LSU and other topics.
Johnson finished the 2010 WNBA season averaging 9.2 points and 4.7 assists per game. The starting point guard for the Mercury also had three double-doubles and collected at least 10 assists three times including back-to-back performances on June 29 and July 1. She spent the offseason playing for Dynamo Kursk in Russia. She has also played in France and Israel. She came to the Mercury in 2009 after three years with the Los Angeles Sparks and a rookie year with the Washington Mystics. She was the 2005 WNBA Rookie of the Year.
The Mercury defeated a Japanese League team Tuesday in Phoenix in a preseason matchup but Johnson along with two other team starters, Diana Taurasi and Penny Taylor, did not play. The team faces Los Angeles Saturday on the campus of the University of New Mexico in Albuquerque at The Pit. The Mercury kicks off the regular season on June 4 on the road against the Seattle Storm. Their home opener is Friday, June 17 against San Antonio.
You've had a week of training camp so far, how is it going?
It's actually going pretty well. I'm excited to be back in Phoenix and excited to see the new additions to our team. It's good to be back.
What are your thoughts on the newcomer Brittany Spears who I've covered when she was in Colorado in the Big 12 plus Alexis-Gray Lawson and veteran Marie Ferdinand-Harris?
The two rookies that you spoke about, I'm really impressed with both of them. To be honest, I have to say when I saw that name Brittany Spears I was like 'what are you talking about?'"….I thought they were kind of joking around but I've been impressed with Brittany and Alexis. They're both working really, really hard. I'm excited to be playing with Marie again. I'm happy to see her happy and I'm excited to be around the three of them very much.
You started in all of Phoenix's game last season for the second season in a row, what can fans expect from you this season that may not have been on display last year?
I think a little bit more in tune on the offensive end. I have more experience and we're bonding more and more as a team. We still have the core group and myself, Diana, Penny, DeWanna [Bonner]…Kara's [Braxton] Back and Candice [Dupree]….just excitement and more leadership but in different areas and in different points and times in the game. I'm excited about it.
You are the Phoenix floor general, that's how it is it. How does it feel to be in that position on a team with so much talent especially with Kara coming back in great shape?
I'm honored by it, to be able to play with the group of women that I'm playing with and to be the leader of this group, the floor general. It's exciting to me to be able to distribute the ball at any position that I want and know that…I'm giving it to somebody that is receiving it and going to finish it. I couldn't ask to be in a better position than what I'm in.
How relieved were you to hear about Diana Taurasi's name being cleared in that Turkish doping agency scandal? What are your thoughts on that whole episode?
I was excited more so for Diana, not really concerned about the doping part. I was really concerned about Diana Taurasi the person and for her to be relieved and for things to be settled and cleared and things to work out in her favor. I was excited about that.
Speaking of overseas, on your blog, you talked about the hard time you had adjusting to playing in Russia in the offseason. What did you gain from that experience personally and as a pro player?
To be honest, I had a lot of time off. I'm a spiritual person and I had a lot of time to think about life and to think about myself and I had a lot of time to think about things that I want to do in life and stuff for my foundation. So I tried to make the best of it in that aspect and just grow as a person and grow as an athlete also. But I really matured more as a young woman and I did suffer a little bit but, I 'm extremely happy that I had the opportunity to go over there. And, I think it has made me a better young lady
I know it's early but do you think you'll be back in Russia for the next offseason?
It's kind of hard to say but I won't say no at all. As of right now I'm just really concentrating on this season that is upcoming for the WNBA. I will tell you I went from one extreme to the next. It was really cold in Russia and of course, everybody knows that it's really hot in Phoenix. I'm just trying to adjust to this weather for now.
Now at LSU, you have a whole new cast headed by Nikki Caldwell coaching the team. What are your thoughts on her hire?
I'm excited about it. I think it's good for the program. I think it's good for the young women who will be in the Lady Tiger uniform and I wish her the best of luck. I think she inherited a great organization, a great name in women's basketball and I think she'll do great things with it. I'm looking forward to seeing and watching her.
Will you still be involved as much with LSU and your foundation and Coach Bob Starkey and getting things off the ground in Louisiana?
I think so. I'll definitely talk to Coach Caldwell when I get a chance and I'll have to get a feel for her and what she expects but I think as far as me and my ties to LSU and the foundation, I think I will always be in sync together no matter what.
You held events for your foundation during the season in the past, what do you have planned this summer to support your charitable activities and give back to the community?
Johnson's Meek's HOPE Foundation has focused on helping bring educational opportunities to children through the an adopt-a-school program and a scholarship fund. She is also the author of a children's book, Meek Moments: Decisions, Decisions, Decisions that is in schools and public libraries in Louisiana.
As of right now I'm concentrating on trying to [plan] with different programs on how I can do more stuff as far as bringing awareness….I really want to bring an awareness to everyone, not just kids but to older people and others.
You have a new WNBA president Laurel Richie. What are you thoughts on her and that hire?
First of all, I'm going to miss Donna Orender very much. I'm excited about the new president. I really don't know that much about her other than what I've read. I'm excited to meet her but from everything that I've been reading and hearing, I'm excited about the passion that she has for women in general and for the game. I think the WNBA is going to be headed in the right direction.