Renee Montgomery enjoys her time at USA National Team Training Camp, looks forward to upcoming WNBA season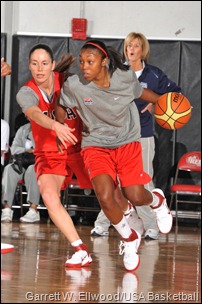 During the three intense days of USA National Team Training Camp in Las Vegas May 10-12, Connecticut Sun guard Renee Montgomery broke away from the little leisure time she had, hanging out at a casino with fellow UConn alumna Swin Cash, to talk with Hoopfeed.com about getting back on the floor with national teammates, the upcoming WNBA season and her thoughts on the new league president.
Montgomery is no stranger to Team USA participation. Although she did not make the final cut of the squad that participated in and won the 2010 FIBA World Championship, she has been a part of various USA Basketball squads since 2004 when she participated in the USA Youth Development Festival East. She was also on the 2006 FIBA Americas U20 Championship team and on the USA National Team squad that won the 2009 UMMC Ekaterinburg International Invitational.
After Las Vegas, Montgomery will head back east to join her Sun teammates in Uncasville as they prepare of the 2011 season with a training camp that starts May 15. Sun newcomers include her former UConn colleague Kalana Greene who arrives to the team after a trade during this year's draft.
On how it feels to be back on the court with USA basketball players
USA is always, you know it's such an honor to be here. As far as on the court, just to throw a lot of players together, it's always going to be a little sloppy and not as sharp as you would like of course. So, in my mind, I feel I can always do a lot better. So after every practice I'm like "I should've done this" or "I should've done that" but I'm having a good time and I'm not stinking the court up, so that's always good.
On the team's performance so far. Does she feel like people are going to be able to be in a groove by 2012?
No. It's hard to tell. I mean, there are lot of people returning so you kind of, in the back of your mind you know that if they've already been on the Olympic team before that their chance of making it is really high. So that's always there. But there's also spots open so you know it is a competitive group…You just want to be the one to competing as hard as you can.
On playing with the young hopefuls, Courtney Vandersloot and Brittney Griner and seeing them in action up close on the floor
It's cool….People aren't really like "oh they're the young group or what not." They're kind of "if you're going to be here, you're going to be here" type thing. I think they [Vandersloot and Griner] don't stand out badly or anything like that. You can't look at them and be like "they're the young group." They've been coming in here and they fit right in and everything. So I feel like all in all it's been a good camp. Everybody has been working hard and just having a good competitive spirit.
On what she's looking forward to the most with the Sun and mixing it up with former UConn pals plus the newcomers
I'm looking forward to it. As far as Connecticut – it's just the fact that we have all the pieces that we need to be a great team. Last year we didn't really put it together. We needed more time maybe to gel and get to know each other but I feel like this year we have a year under our belt. And we got a couple more pieces that are just perfect for us. I think we should be really good. I know people are going to say you'll always say that because you're biased but I really feel that we should be really good.
On what should fans expect from her this year and the fact that she increased her points per game and assists per game averages in her first year on the Sun
I just want to bring something different, something that like when another team is playing me they have to change their style a little bit. There's just things that I want to add to my game….I just always want to bring a little something different.
On the amount of youth on the Sun's squad
I just have a feeling we're just going to mesh really well. I feel like everything is just going to all come together in that "Aha!" moment type thing so this is what I'm planning on. I really feel like the whole team— there's all this good feeling together around all of us. It's going to come together right this year, so we'll see.
Her thoughts on the new WNBA president Laurel Richie
Man, I'm excited she has a lot of experience but not only experience; she's very successful at what she does. So I'm excited to get someone that sort of will maybe change how people view the WNBA and give a different look to the WNBA. So that's what I'm most excited about – how she's goes about marketing.
On how she connects with fans via social media and the importance of outreach to women's basketball supporters
I just think, you know a lot of times you see men's players do it a lot. I know Ochocinco is a perfect example of it. He doesn't always just want to be an athlete but he wants to reach his hands out and do a lot of different things and a lot of times in the women's game you don't really see that. And, I just want to kind of try to get that vibe going in the WNBA. I don't want us to be limited. A lot of times even endorsers…they don't' really want to pay a WNBA player to represent their company but they're quick to pay a NBA player to. My main thing is I want to change up that whole perception.
On building up the "Renee Montgomery brand"
I think that's an ongoing process. I don't want to ever get comfortable with where I'm at on the court and off the court. I think a lot of times people just focus on one thing and I feel like I want to always make sure that what I'm doing off the court for the Renee Montgomery brand is good for the Renee Montgomery brand on the court