Game Updates: Los Angeles at San Antonio, June 24, 2011
San Antonio 90, Los Angeles 80 OT
San Antonio: Jia Perkins (31 points, 8 rebounds), Becky Hammon (22 points), Sophia Young (12 points, 7 rebounds), Ruth Riley (11 points, 9 rebounds)
Los Angeles: Candace Parker (25 points, 13 rebounds), DeLisha Milton-Jones (15 points, 6 rebounds), Noelle Quinn (10 points, 4 rebounds)
Attendance: 8,617
Officals: #39 Michael Price, #24 Tony Dawkins, #28 Angelica Suffren
SAN ANTONIO – It is "Inspiring Woman Night" and the Silver Stars honor five local women for their personal and professional achievements: Lucy Coffey, who recently celebrated her 105th birthday; Author of Small Biz Big Results Cheryl Cook and Director of Learning, Education and Development for Valero Energy Corporation, Laura Vaccaro. They all received a standing ovation at halftime. Coffey received extra loud cheers. She enlisted in the Women's Army Auxiliary Corps in 1943 and landed in Tokyo, Japan where she served in the procurement office. She was assigned to the Kelly Air Force Base in San Antonio in 1957 and worked there until she retired in 1971.
Sandy Brondello, last year's Silver Stars head coach, is back in the building as a Sparks assistant. She still impresses fans when she does a two-finger whistle to get the attention of players on the court.
The Girl Scouts assisted in the pregame ceremonies as a local troop served as the color guard.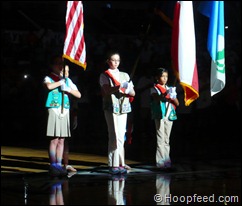 Starting for the Sparks: Thompson, Milton-Jones, Parker, Penicheiro, Quinn.
Starting for Silver Stars: Young, Bevilaqua, Riley, Robinson, Hammon.
Candace Parker asked the media to take care of an extra jersey during shoot around.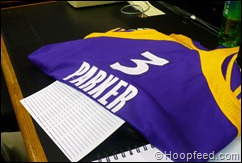 First Quarter
The Sparks are off to a hot start, 17-6 6:03. Candace Parker has six quick points. Hammon has all of San Antonio's points (two treys).
The Silver Stars are relying on outside shooting. They're doomed to lose if they can't work anything on the inside. 23-13 LA, 2:26. Silver Stars need points in the paint.
And Becky Hammon penetrates with one of those trademark off-kilter reverse layups. 25-17 LA.
The Michael Jackson impersonator performing during timeout is very good. RIP MJ!
End of 1Q: Sparks 28, Silver Stars 17 DeLisha Milton Jones with nine points.
Second Quarter
Jayne Appel enters the game for the first time for SASS at the beginning of the second quarter.
Silver Stars fighting back. 30-27 LA. Jia Perkins' trey cuts lead but Jenna O'Hea comes back with a three-pointer for the Sparks, 33-27 6:16.
Danielle Robinson speeds past a bunch of Sparks for a nice layup, 35-32 LA.
A trey from Jia Perkins makes it a 1-point contest. 36-35 LA 4:03.
Perkins putting in work. Her layup gives Silver Stars the lead, 37-36 3:33 2Q.
Halftime: Los Angeles 43, San Antonio 42. Kristi Toliver's jumper within seconds before the break gives Sparks the lead.
DeLisha Milton-Jones leading the Sparks with 12 points. Jia Perkins has 18 for the Silver Stars.
Parker's husband Shelden Williams and daughter Lailaa are courtside near the Sparks' bench. Lailaa is adorable and well-behaved. She calmly poses for the camera of her neighbor.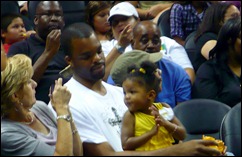 Third Quarter
Ruth Riley getting hot, four straight points, 47-46 LA 6:30. She is playing hard on both ends of the court this quarter, pulling down rebounds and blocking shots. She starts the quarter with eight straight points for SASS. And blocks Parker.
While Sophia Young is at the line, Tully Bevilaqua and Ticha Penicheiro tell jokes to each other.
Riley finishes the quarter with nine points and four rebounds. Perkins still on fire, has six points in the quarter.
For Los Angeles, Parker has ten points for this period.
Fourth Quarter
Beginning of 4Q: 65-59 LA over SASS.
San Antonio's Young only has four points but she is hustlin' hard on defense.
Hammon waiting on the sidelines to enter the fourth quarter for the first time. Tight situations and Hammon = beware opponents, 67-59 LA 7:24.
There was a dead bat on the floor, just fell down from above. A ref took it off the floor with a Gatorade towel. Joe Bryant was inspecting the animal. Bats are common in Central Texas. Stand on the bridge in Austin at dusk and you'll see tens of thousands of bats fly into the sky. An amazing sight.
From the Twitterverse:
UTSA_SportsMed (Brenna Ellis)
@hoopfeed that happened during spurs game resulting in ginobli getting rabies shots. Seems to be a problem in that venue.
Three point game after Riley gets her own rebound for a layup, 69-66 LA, then the rookie Danielle Adams gets inside for her own, one point game 69-68 3:47.
Um yeah, a lot of stuff just happened that was just wow, steals, misses, misses, makes, fouls, three-point game 78-75. 38.7 seconds.
5.4 seconds left, SASS with the ball.
Overtime! 78 all. Perkins has 31 points for SASS. Candace Parker has 23 for LA.
Overtime
Penicheiro misses a trey, Adams gets the rebound.
Parker fouls Sophia Young. Young makes both free throws. 80-78 SASS 3:02 OT.
Sparks making desperate three-point attempts, Toliver then Thompson.
Adams and Perkins are celebrating.
Ebony Hoffman fouls Hammon. Hammon makes both free throws. 82-78 SASS. Thought Riley had a clean block on Parker but gets called for a foul. 82-80 SASS.
Young makes a jump shot, Sparks are not taking care of the ball, turnover. SASS ball. The Hammon! 86-80 SASS, exactly one minute left in overtime.
Season high for Perkins, 31 pts. She made 39 at Sacramento on June 29, 2007 when she played for Chicago.
Young with a jumper from the corner. Dagger. 88-80 and 32.2 seconds left. She pumps her fist in the air as she heads to the bench for a timeout
Final: San Antonio 90 Los Angeles 80 OT. Perkins comes off the bench to lead her team with her 31 points. Hammon with 22.
Postgame
Spoke to Oklahoma head coach Sherri Coale in hallway while she waited for SASS rookie Danielle Robinson: "It's the perfect spot for her….It's an awesome learning experience…to be in the backcourt with a veteran like Becky."
Danielle Adams was on her iPad post-game in the locker room checking out WNBA scores, stats and watching video.
Jia Perkins on her performance tonight:
"I just came into the game with the mindset that I was going to attack. I just wanted to get my shot off or find teammates. Whatever it was, I just wanted to be aggressive."
Next
San Antonio heads to Atlanta for a game on Sunday. Los Angeles also has a game that day as the team continues its road trip to play New York at the Liberty's temporary home in Newark.