Los Angeles dominates Seattle from beginning to end, bench play key in victory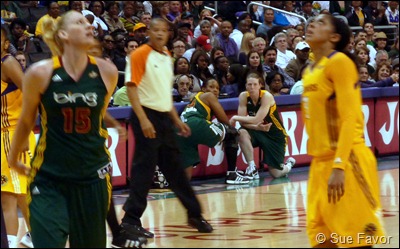 Katie Smith and Le'coe Willingham wait to enter the game and watch Lauren Jackson and Candace Parker.
LOS ANGELES – What a difference a year makes.
Last season it was the Storm that clicked on all cylinders like a well-oiled machine, on their way to a second WNBA championship. They swept the Sparks 5-0, which included knocking them out of the playoffs.
Last night, the roles were reversed.
Los Angeles dominated Seattle from beginning to end, holding them to a season-low eight points in the first quarter. The Storm could never get an offensive rhythm going and Sparks players took turns scoring. They shot 51.6 percent for the first half, while Seattle lagged at 31.3. The percentages were almost the same as the final game totals.
But most impressive for Los Angeles – and a dangerous sign for other teams — is that their bench out-scored the starters, 40-34. Forward Ebony Hoffman was the leading point-getter with 12, while Kristi Toliver added 11 and rookie Jantel Lavender put up 10. Star forward Candace Parker also had 10.
"We have a bench now, and that's what's going to be a difference-maker for us," said head coach Jennifer Gillom. "We have a good team this year."
Sue Bird tried to get things going for the Storm, putting up seven and eight points, respectively, in the middle quarters. But only three of her teammates were able to score significant points, and they did so by struggling. Swin Cash was 3-13 with nine points, Lauren Jackson was 3-14 with nine, and Camille Little put up eight points. Three players were scoreless, while only one Los Angeles player had no points.
Expectations had been high for the defending champions, now 2-2, because they returned all five starters from last year. But one of them – guard Tanisha Wright – said this year's squad is different than last year's.
"Right now our chemistry is off, offensively and defensively," she said. "We're really going through a roller coaster."
"You would think we would just carry on from last year, but we need to work on it. And that means getting in there and practicing. Until it gets there, [games like today is] what we'll see."
Bird also acknowledged that the Storm is "going through it a little bit." Jackson characterized the team as "not together right now."
"We'll get there – it's just a matter of when, and hopefully it won't be too late," said Wright.
The Sparks, now 3-1, appear to be on the rise. Hoffman said they don't let up on possessions, regardless of who is on the floor.
"We bring it at all times, and the different lineups that were used tonight show the versatility of this team both offensively and defensively,"she said. "We've got so many weapons."
Hoffman echoed the sentiments of Toliver, who said after the Sparks' last home victory against Phoenix that LA had developed chemistry.
"We encourage each other, we play together, and our teamwork is so strong," she said. "Everybody has confidence in each other to contribute in a big way."
The Sparks host the New York Liberty Tuesday at 10:00 p.m. ET in a 15th anniversary re-match of the WNBA's first game. The game will be televised on ESPN2.
Around the Web