Sparks host the Liberty as the league celebrates its 15th season and inaugural game
New York Liberty (2-3) at Los Angeles Sparks (3-1)
Time: 10:00 p.m. ET
Where: Staples Center, Los Angeles
TV: ESPN2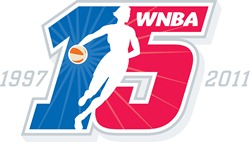 On June 21, 1997 Lisa Leslie and the Los Angeles Sparks hosted the New York Liberty in the WNBA's first game. The game took place at the Los Angeles Forum in Inglewood. With head coach Nancy Darsch leading the team, Liberty stars Rebecca Lobo and Teresa Weatherspoon helped lift New York to a 67-57 victory before a crowd of 14,284.
"It was tremendous, especially for a city like Los Angeles to come out and support women's basketball like they did," said Lobo after that first game. "They deserve to get a big pat on their backs. This is one of the best places to play basketball."
Celebrities in attendance at that first game included Tyra Banks who became a fixture at Liberty games, movie director Penny Marshall, Lakers players Nick Van Exel and Eddie Jones, and legend Magic Johnson.
"I was sky-high, and I wasn't even playing," said Johnson. "And the timing is right. You know baseball has its fans, but there's a lot of basketball fans looking for something to watch right now."
The contest itself "wasn't the prettiest of games," said Lobo. "I think today was a little bit of an ugly game, but it wasn't because of a lack of effort. It's going to get better. It was first-game jitters. It just felt great to finally be out there playing."
The teams combined for 44 turnovers.
Although Lobo missed her first five shots, she finished with a team-high 16 points on 6-of-15 shooting. She also had six rebounds, three assists and three blocks. Leslie led the Sparks with 16 points (6-for-17) and 14 rebounds. She attempted a dunk but did not make it and rammed the rim.
Women's Basketball Hall of Famer Linda Sharp was the first head coach of the Sparks. In December 1997, assistant Julie Rousseau was promoted to head coach. She is now the head coach at Pepperdine and will attend tonight's game.
"First of all I can't believe it's been 15 years," said Rousseau. "I'm honored to be a part of this celebration, which I consider to be a great testament to a league that continues to thrive and gives hope to young girls everywhere who aspire to be professional players in the United States."
The Liberty continued its streak and won seven straight games to start the season. The team reached the league finals but lost to the Houston Comets.
Tonight the stars of that first game will be on hand to watch the two teams go at each other in the 15th anniversary of the league's beginnings. The first player to score in that historic game, Penny Toler, is now the Sparks' general manager. She made an 11-foot jumper in the inaugural contest shortly after the game began. Leslie and Lobo are retired but still busy as mothers and commentators, remaining ambassadors of the game.
Cynthia Cooper of the Comets earned the Most Valuable Player honor in 1997 while the Liberty's Teresa Weatherspoon was named Defensive Player of the Year. Both Cooper and Weatherspoon are head coaches at NCAA Division I schools. Cooper is at UNC Wilmington while Weatherspoon is at her alma mater Louisiana Tech.
The All-WNBA 1st team members included:
Ruthie Bolton (Sacramento)
Cynthia Cooper (Houston)
Lisa Leslie (Los Angeles)
Eva Nemcova (Cleveland)
Tina Thompson (Houston)
Thompson, who plays for the Sparks but was a starter for the Houston Comets for 12 years, is the lone remaining player from the WNBA's first season.
Currently, the Sparks are on a two-game winning streak after defeating the defending champion Seattle Storm, 74-50, this past weekend. The Liberty have a 2-3 record.
Tonight's game will be broadcast on ESPN2. The WNBA will unveil 30 candidates for its 15th Anniversary Team. From that list, the Top 15 Players in WNBA history will be selected and that group will be announced during the week of the 2011 WNBA All-Star Game in San Antonio.
Around the Web