Attendance numbers and MVPs in WNBA All-Star Game history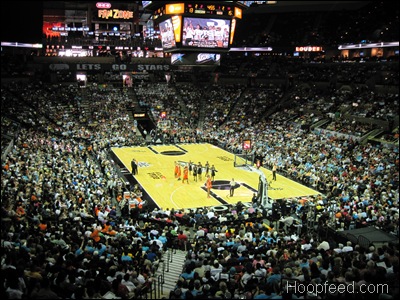 AT&T Center in San Antonio during the 2011 WNBA All-Star game.
Washington, D.C.-hosted WNBA All-Star games lead the league in attendance with two sellouts both times (2002 and 2007) the ownership of the home team Mystics planned the event. According to historical box scores, each game drew 19,487 fans.
Yesterday's event at the AT&T Center in San Antonio garnered 12,540 fans, a increase in 3,022 attendees from the past two years when the event was held at Mohegan Sun in Uncasville, Connecticut and sold out at the arena where the Connecticut Sun plays their home games.
2011: East 118, West 113
Location: San Antonio
MVP: Swin Cash
Attendance: 12,540
2010: USA Basketball 99, WNBA Stars 72
Location: Connecticut
MVP: Sylvia Fowles
Attendance: 9,518 (Sellout)
2009: West 130, East 118
Location: Connecticut
MVP: Swin Cash
Attendance: 9,518 (Sellout)
2007: East 103, West 99
Location: Washington, DC
MVP: Cheryl Ford
Attendance: 19,487 (Sellout)
2006: East 98, West 82
Location: New York
MVP: Katie Douglas
Attendance: 12,998
2005: West 122, East 99
Location: Connecticut
MVP: Sheryl Swoopes
Attendance: 9,518 (Sellout)
2004: No All-Star Game
Due to the 2004 Olympic Games, the WNBA took a month-long break. Before the international competition, the WNBA hosted an event at Radio City in New York between the U.S. Olympic Team and a team of WNBA All-Stars
2003: West 84, East 75
Location: New York
MVP: Nikki Teasley
Attendance: 18,610
2002: West 81, East 76
Location: Washington, D.C.
MVP: Lisa Leslie
Attendance: 19,487 (Sellout)
2001: West 80, East 72
Location: Orlando
MVP: Lisa Leslie
Attendance: 16,906
2000: West 73, East 61
Location: Phoenix
MVP: Tina Thompson
Attendance: 17,717
1999: West 79, East 61
Location: New York
MVP: Lisa Leslie (Los Angeles Sparks)
Attendance: 18,649 (Sellout)