Being an All-Star never gets tired for repeat honorees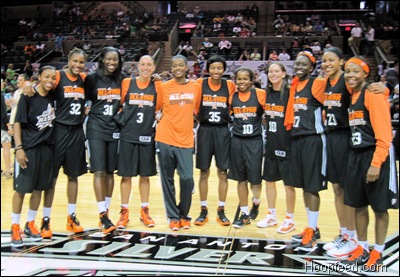 SAN ANTONIO – For players like Becky Hammon, Katie Douglas, Tamika Catchings, Sue Bird, Swin Cash and Penny Taylor, all who have been WNBA All-Stars several times, receiving the honor to play amongst the league's best in a fan showcase is always a joy.
"Being an All-Star never gets old,"said Pondexter who has been on the team representing the East (New York Liberty) and the West (Phoenix Mercury) a combined four times. "It's an honor to be around a lot of great players and a lot of greatness and it's cool and relaxing. I enjoy All-Star weekend and everything that we do."
For Hammon, who has been an All-Star the most times (12) amongst this year's crop of players named to the elite team that competes in East and West squads against each other midway through the WNBA season, it has been a long way from a confident middle-school baller in South Dakota to the elite ranks of the world's best women's basketball players. While Hammon beat the odds after being snubbed by schools with longstanding women's basketball legacies and attended Colorado State, others such as Bird, Cash and Catchings, came through the ranks after attending powerhouses and being high WNBA draft picks.
Taylor, who is an All-Star for the ninth time, is joined this year by fellow Australian, rookie Elizabeth Cambage who was named to the team to replace an injured Candace Parker.
The rookies joined the euphoria of the veterans during the open practices where fans had the chance to meet their favorite players. Cambage, with her bubbly personality, roamed around the court mingling with media and signing autographs was surprised to be at the festivities.
"You know it was a big honor and a big surprise to be named," she said about being on the team. "It's an awesome opportunity and I can't wait to get on the court tomorrow."
Even while Tulsa struggles mightily this season with only one win under their belt, Cambage maintains a positive outlook about her first season in the league.
"It's been a bit of a rollercoaster in Tulsa but I'm learning and developing," she said, "and the girls have been really great and we're sticking together and we're going to keep fighting."
Essence Carson of the New York Liberty, a reserve for the East, talked about how being at the game was the culmination of a childhood dream.
"It feels great to be here," she said. "You know…since I was 11 or 12 years old – since the WNBA started, I grew up watching the game. I grew up watching WNBA All-Stars and that was something I dreamed of. Just being able to play with and against so many great players on one court at one time and to be great entertainment for great fans means a lot to me."