Los Angeles Sparks owner Paula Madison steps into the spotlight, talks about becoming more involved with the team
Madison's family business first contact with the team was not "love at first sight"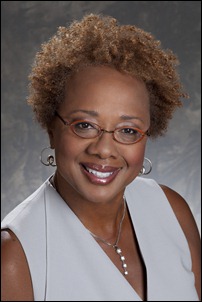 LOS ANGELES – Kathy Goodman and Carla Christofferson bought the Los Angeles Sparks in 2006, and they have been the faces of ownership for the organization ever since. But quietly, since 2007, another owner has stepped into the picture, and now she's emerging into a more public role: Paula Madison. She recently talked with Hoopfeed.com about her role with the team.
On June 21, Madison took the court with new WNBA President Laurel Richie before the league's 15th anniversary game to accept a proclamation that it was officially "Los Angeles Sparks Day" in the city. She's a constant presence at all home games and she took the team on an outing in May to see Prince.
"Tina Thompson knew all the words to every song," Madison said warmly. "Everyone had a really good time."
Madison and her family own Williams Group Holdings. They began investing in the Sparks in 2007. But Madison had limited involvement due to her jobs with NBCUniversal and KNBC-TV Channel 4. She retired this past April to focus more on the family business and some of her new duties including chair of the Sparks Board of Directors and a member of the WNBA Board of Governors.
The Sparks board was formed two years ago. Madison's niece chaired the board during its first year. Madison said she is in the top spot for the next few years. The league's Board of Governors consists of the owners of WNBA teams. Williams Group Holdings owns more than 50 percent of the Sparks now, which makes Madison a logical choice for the seat.
Goodman and Christofferson, notorious for their visibility and hands-on involvement with the team, are still going strong. Madison shares their goals to market the Sparks and increase attendance and her ideas only add to theirs.
"Owners have to support our teams," Madison said. "We have to get bodies in the arena, and market not only individual teams but the league as a whole."
Madison wants to have team practices rotating at local high schools and market them as a community events. She is also working on a unique idea that utilizes her extensive background in television: she wants to conduct DNA testing on all the African-American Sparks players to determine where in Africa their families came from – then go there with TV cameras.
"In going there, we could bring basketball to Africa," she said.
The Sparks have turned into a family affair for Madison and her husband, Roosevelt. Besides attending games, Roosevelt also goes to practices, giving rides to players here and there. But involvement has a limit for the Madison-Williams family; she said she lets people do their jobs.
"We want the coach to coach, the GM to be the GM, the president to be the president," she said. "The owners support when we can, and as board members we set policies. But it's not our goal to interfere with the operations of the team."
Sparks President Mike Levy reports to Madison almost every day, she said, and communication is good. But if she got involved with daily operations it would be "disruptive."
What looks like a match made in heaven was not love at first sight. Madison said that when Williams Group Holdings was first presented with the option of investing in the Sparks, they turned it down because they "didn't see themselves in sports." Two weeks later, former radio talk show host Don Imus found himself at the center of controversy after calling the Rutgers basketball team "nappy-headed hoes."
"I felt like we needed to get involved at that point, so I went back to my family and re-presented it," Madison said.
Fast forward to the present, and Williams Group Holdings is happy about their decision.
"We're having a good time with this"
Sparks owner Paula Madison steps into the spotlight, talks about becoming more involved with the team on a personal and financial level