The NCAA reprimands coaches for comments and actions during NCAA tournament: Baylor's Mulkey, Louisville's Walz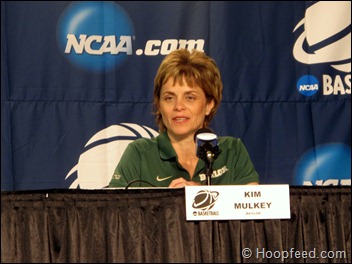 Baylor coach Kim Mulkey during the Dallas Regional talking about bracketing on March 27.
The NCAA Division I Women's Basketball Committee publicly reprimanded two I Division head coaches for violating tournament policy during the 2011 tournament.
According to the NCAA, Baylor head coach Kim Mulkey "made disparaging comments on the integrity of the championship bracketing process to the media during the 2011 championship."
Mulkey criticized the bracketing on March 27 because her team had to face Big 12 foe Texas A&M four times during the year with the last matchup during the NCAA tournament regionals. Baylor beat A&M during the Big 12 Conference title game but fell to the Aggies in the NCAA tournament Dallas Regional final. The Aggies went on the win the national championship.
"I don't like playing them again," said Mulkey, "because I think it takes away the opportunity for two Big 12 teams to have made it to the Final Four."
She talked at length about her thoughts on how the NCAA makes choices, TV coverage and why teams who are from the same conference and No. 1 and No. 2 seeds (Baylor and A&M respectively) should not be playing in the same region of the tournament bracket.
The organization chastised Louisville coach Jeff Walz for using "profane and abusive language towards the game officials, individuals seated at the scorer's table and on the team bench, as well as kicking the scorer's table during Louisville's game against Gonzaga at the Spokane Regional."
In addition to the reprimands, the NCAA withheld the championship per diem allowance for both coaches.
"The committee was very disappointed in the behavior of both coaches and strongly believes their actions discredited them and tarnished the championship," said Marilyn McNeil, chair of the Division I Women's Basketball Committee and vice president and director of athletics at Monmouth University.