The WNBA's oldest players have a multi-faceted approach to longevity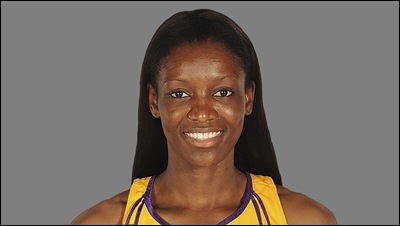 DeLisha Milton-Jones: "People haven't really seen the best of me yet"
It will be pause for thought next year, when college graduates eligible for the WNBA draft will be born in 1990 or later — especially considering that the league's oldest players were born 15 to 20 years before that.
It is a gap that six of the WNBA's seven oldest players fill well. Taj McWilliams-Franklin, 40; Tully Bevilaqua, 39; Katie Smith, 37; DeLisha Milton-Jones, 36; Ticha Penicheiro, 36; and Tina Thompson, 36, have had careers that have spanned years, countries, Olympic games, All-Star games and championships. And though they are almost old enough to be mothers to incoming rookies, all five players are big contributors to their respective teams.
The secret to longevity is multi-faceted. But for each of these players, it appears to begin with their great love of basketball.
"What's kept me going is the competition — the drive to be better, and to match wits with the best in the sport," said McWilliams-Franklin, a forward for the Lynx. "My question is always 'what can I do to stop her?'"
Smith, currently playing for the Storm, has a similar viewpoint.
"I love what we do and I love competing," she said. "It's a love of the game, a love of the camaraderie, and it's a new challenge every single year."
Bevilaqua, now a member of the Silver Stars, called basketball her job, and said she's fortunate to have it.
"What other job allows you to travel, have some free time and do what you love to do?" she said.
Sparks guard Penicheiro said it is not only the passion for the game that keeps her going, but the need for a clear conscience.
"It's a job you can't have forever, and I don't want to have any regrets when I'm older," she said.
Another contributor to the long careers of these athletes has been the ability to come back from injury. Each has also been diligent about self-care as they have become older.
"I do a good job of taking care of myself," said Milton-Jones, a forward for the Sparks. "I treat myself as an elite class car. I put the best food in so that I can produce the best when I tap that gas."
"I stretch all the time, and I do yoga one to two times a week before bed."
McWilliams-Franklin acknowledged that at 40, she gets tired faster than she used to. But because of her experience, she knows her limitations expertly, and can regulate her energy expenditure depending upon the situation.
"There are just things I know now from growing in my body," she said. "I'm not out there on the court trying to do every single thing. I can't go 90 miles an hour anymore, and I don't try to do so."
Similarly, Bevilaqua says these days she shortens her workouts.
"I make my workouts shorter, but of higher quality," Bevilaqua said. "Twenty years ago I would run on the treadmill for an hour, but now I have shorter sessions that are of better quality.
"I make sure I stretch before and after games and before and after workouts. I use ice – not as a treatment but as an [injury] prevention method."
Smith said she is in a maintenance mode – keeping in the shape that she worked for years to attain.
"Your body talks to you a lot more as you get older, and sometimes you need to take a break and rest up," she said.
Sparks forward Thompson said her keys are working out, including weight training; eating a balanced diet, and drinking a lot of water.
Cognitively, the longevity of these players has meant a perspective change – and a change to their roles on their respective teams.
"My role has changed to where I'm a player/teacher now," Penicheiro said. "I sometimes help the younger players, teaching them the ropes and giving them support."
Smith said, with a laugh, that younger players sometimes remind her of herself at a young age.
"I'm watching these youngsters come in and I can see that they have no clue about what to do on court, and how to use and manage their bodies," she said. "In that sense it's kind of a fun thing to be older."
Milton-Jones sees the same things.
"When you're younger, you have all the talent but not the know-how," she said. "You don't know how to harness that talent and you don't know how to persevere."
Thompson says she tries to help younger players as much as she can.
"Mentoring, of course I think it's your duty as a veteran and elder statesmen on the team – wherever there is a need and have something that you can share to make a situation better, you should do that," Thompson said.
McWilliams-Franklin said she is often like a big sister to her younger teammates. Sometimes, however, rookies come in who have had storied college careers, like her teammate Maya Moore. McWilliams-Franklin said such players don't usually need as much mentoring.
Bevilaqua said the older player-younger player dynamic benefits both sides.
"You're definitely there to make that rookie better, but they make you better at the same time with their quickness," she said. "That's what keeps me young."
They don't make players like they used to, the veterans say.
"The versatility and athleticism most come in with now is the biggest difference," Bevilaqua said. "Players come in with super quickness – not the traditional big camped out under the basket."
Milton-Jones said not all younger players are receptive to advice.
"Some players like to be mentored, and some could care less about what you've done and what you know," she said. "It's a new breed of players now…..and many have a sense of entitlement."
All five athletes seem to embody the essence of agelessness.
"I still have so much to learn," Bevilaqua said.
Thompson has a similar perspective.
"I think with each year I try to grow in general," she said. "Whether it's just adding something to my game, or just kind of receiving or soaking up knowledge from my teammates, coaches, whoever, It's growing process forever. So, I think that with each year I get more knowledgeable about the game."
Milton-Jones, who has helped carry the Sparks the last two seasons when teammates have been injured, said the second half of last season was some of the best basketball she's played in years.
"People haven't really seen the best of me yet," she said.
Asked to pick a favorite time in their long and storied careers, the players have a hard time deciding.
McWilliams-Franklin said winning the WNBA title with the Shock in 2008 was her highlight. For Bevilaqua, it was the entire 2004 WNBA season, which culminated in a championship for the Storm.
Thompson's best memory is the four titles the Houston Comets won from 1997-2000, plus her gold medals in the Olympics. Smith said she loved playing for former Shock Coach Bill Laimbeer.
Given how much each athlete enjoys basketball, it's no surprise that all said they had no set time to retire, and that they were taking it year by year.
"For me it's the fun factor: am I still having fun out there? Is my body still capable of playing at this level?" Bevilaqua said.
Milton-Jones said she talks to herself differently than when she was younger.
"I used to tell myself, 'when I'm 30 I'll play until I'm 40,' but now I don't know," she said. "I feel good and strong and I have no aches and pains. So I'm going to ride until the wheels fall off."
Penicheiro said she assesses her readiness to play each year with one question: is she cheating the game by playing?
"I always say to my friends, 'if you see me dragging, let me know,'" she said.
There's a self-preservation factor, too.
"I'm 36 and I want to walk when I'm 50," Penicheiro said with a laugh.
In seemingly another lesson in how to age gracefully, Smith said she has approached basketball with an open heart and mind all her life, and has been surprised by the roads on which it's taken her.
"It's a journey that I didn't think possible," Smith said. "USA Basketball was a surprise, and so were the opportunities that came from that. I feel blessed that I've had the opportunities to continue to do what I love to do. It's been a whirlwind – nothing I ever expected in my life."
Basketball has also meant the formation of lifelong friendships.
"I've had amazing experiences and developed friendships, from AAU on up," Smith said. "It's like a sorority, because not many of us in the world play basketball."
Editor's note: Numerous attempts were made to interview Sheryl Swoopes for this story but the Tulsa Shock did not follow through with scheduled interview times.