With Portugal's basketball legacy on her shoulders, Ticha Penicheiro "humbled" by WNBA Top 15 honor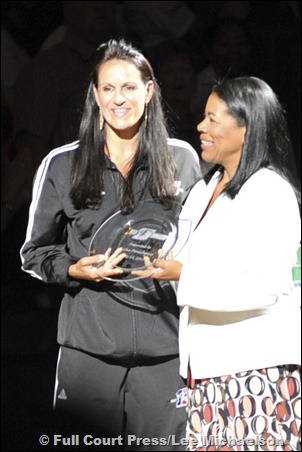 Ticha Penicheiro receives her award for being named one of the top 15 players in WNBA history from league president Laurel Richie during halftime of the WNBA All-Star game.
Out of the list of players named as the top 15 players in WNBA history, only two were from countries other than the United States. In addition to Australia"s Lauren Jackson, Portugal's Ticha Penicheiro joined the accomplished group of ballers the league honored during halftime of the 2011 WNBA All-Star game on Saturday, July 23 in San Antonio.
"I feel very humbled, honored and blessed," said Penicheiro after the game as she enjoyed the camaraderie of her fellow honorees as they milled around the hallways of the AT&T Center. She was in wonder during the pre-ceremony wait while mingling with the other players on the list.
"There are a lot of thoughts going through my mind right now," she said. "When we were in the green room, I was just looking around me and at the players that are also selected, it's amazing. Right now I'm still kind of in awe of everything, this is a great accomplishment."
While Jackson is from a country known to be a source of top-notch ballers in the pro leagues around the world as well as American colleges, Portugal's legacy of women's basketball rests of the shoulders of a player who grew up idolizing NBA legend Magic Johnson from afar in the beach town of Figueira da Foz before heading across the ocean to Old Dominion University as a talented 19 year-old with point guard skills that reminded fans of her Los Angeles Lakers hero.
"I've been in the WNBA for fourteen years, never in my life did I dream when I started played basketball that I thought I would accomplish this much and the game of basketball would give me this much," said Penicheiro. "It's really hard to describe how exactly I feel."
With experience under her belt playing for Portuguese clubs, she convinced Mery Andrade (Cape Verde) and Clarisse Machanguana (Mozambique), talented youth who also played in the small country, to attend ODU.
Known as the Portuguese connection, the trio helped ODU dominate the Colonial Athletic Association (CAA) culminating in an appearance at the 1997 NCAA championship game where they fell to Tennessee. The Lady Monarchs finished that season 34-2.
Penicheiro knows she has the eye of her country on her when she plays and is proud to represent a place that is proud of her legacy and that collectively follows her career.
"Portugal is a really small country not known for basketball at all," she said when asked what it felt like to represent the westernmost country in Europe, a place with just 10.6 million residents. "We have a lot of soccer players that are worldwide famous…I know when I play, I represent my country, people [there] know me and respect me. They love me and I know that I'm representing a very small country that has no basketball tradition. So I know back home right now people are cheering and continue to support me and for them too, it is a very special time."
Penicheiro finished her career as ODU's all-time steals leader (591), and second all-time assists leader (939) as well as the CAA all-time leader in assists and steals. She earned the prestigious Wade Trophy during her senior year and was a two-time Kodak First Team All-American (1997 and 1998).
"She is the best player in the country," said basketball legend and fellow ODU alumna Anne Donovan ('83) in 1998 when she was the coach of East Carolina. Penicheiro had 15 points, seven assists and seven steals in a game where ODU trounced ECU 72-36 on January 11, 1998. That game marked the Lady Monarchs' 100th win out of 101 CAA games.
"She is the most valuable player in the country," continued Donovan after her team lost to ODU. "She loves to play and loves to win. These are the intangibles that separate the good from the great."
While she excelled at ODU and earned a degree in communications and interdisciplinary studies, Penicheiro said it was difficult for her to leave Portugal but that she loved her time under former head coach and women's basketball pioneer Wendy Larry.
"It was hard for me to leave home with my family behind and my country and to come here to a foreign country at the age of 19 on my own," said the member of the 2006 class of the ODU Hall of Fame. "It was tough. It was kind of a step in the dark. I gambled and I know if I didn't come I probably wouldn't be here talking to you right now and I would not have been distinguished with the honor that I just received today."
It was a major move for Penicheiro on my many levels to begin a collegiate career in Norfolk at ODU.
"Going to Old dominion also changed my life and is a big reason why I am here today not just because of what I learned on the court but it made me grow as a woman For that, I thank Wendy Larry and her staff and also my teammates. It was a great program and I learned a lot being there."
The now-defunct Sacramento Monarchs drafted Penicheiro in the 1998 WNBA draft as the second overall pick. She averaged 7.5 assists per game during her rookie year and in her career became the first player in league history to reach 2,000 career assists. Penicheiro and ODU alumna Hamchetou Maiga-Ba ('02) helped guide the Monarchs to the league championship in 2005. In 2006, the Portuguese basketball legend made the list honorable mentions for the WNBA All-Decade team.
After the Monarchs folded in November 2009, Penicheiro joined the Los Angeles Sparks before the start of the 2010 season. She is a four-time WNBA All-Star and the league's all-time leader in assists (2,453), assists per game (5.9) and second in all-time steals (738).
She was fan favorite at Old Dominion and garnered enthusiastic responses from fans of the WNBA since she began her pro career. She was quick to thank the fans who supported her through the years and in the voting for the top 15.
"I really want to thank everyone who voted for me," she said and mentioned not just fans but her coaches, fellow players and even members of the media as those she felt gratitude towards. "There's a lot of people who I'd like to thank but I'm really in awe right now."