Big 12 releases 2012 women's basketball conference schedule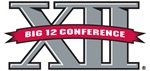 The Big 12 released the 2012 women's basketball conference composite schedule today. Conference action begins Wednesday, January 12, 2012 with five games:  Iowa State at Oklahoma, Kansas at Texas, Missouri at Baylor, Oklahoma State at Texas Tech and Texas A&M at Kansas State.
The schedule features a new double round robin format. Play includes 18 games with conference members playing each other twice. The school that finishes with the best winning percentage in league games will be crowned the regular season champion.
The 2012 Big 12 Women's Basketball Championship will be in Kansas City's Municipal Auditorium. Two first round matchups are scheduled for Wednesday, March 7, with quarterfinals on Thursday, March 8. Semifinals will be on Friday, March 9, with the final  on Saturday, March 10.
Big 12 Women's Basketball Composite Schedule
Wednesday, January 4
Iowa State at Oklahoma
Kansas at Texas
Missouri at Baylor
Oklahoma State at Texas Tech
Texas A&M at Kansas State
Saturday, January 7
Kansas State at Kansas
Baylor at Iowa State
Texas at Oklahoma State
Texas Tech at Missouri
Sunday, January 8
Oklahoma at Texas A&M
Wednesday, January 11
Iowa State at Kansas
Missouri at Kansas State
Oklahoma State at Baylor
Texas at Texas A&M
Texas Tech at Oklahoma
Saturday, January 14
Kansas State at Texas Tech
Baylor at Texas
Oklahoma at Oklahoma State
Texas A&M at Iowa State
Sunday, January 15
Kansas at Missouri
Tuesday, January 17
Oklahoma at Kansas State
Wednesday, January 18
Iowa State at Texas
Kansas at Oklahoma State
Missouri at Texas A&M
Baylor at Texas Tech
Saturday, January 21
Kansas State at Baylor
Oklahoma State at Missouri
Texas at Oklahoma
Texas A&M at Kansas
Texas Tech at Iowa State
Tuesday, January 24
Texas A&M at Oklahoma State
Wednesday, January 25
Iowa State at Kansas State
Missouri at Texas
Baylor at Oklahoma
Texas Tech at Kansas
Saturday, January 28
Kansas at Baylor
Kansas State at Oklahoma State
Oklahoma at Missouri
Texas at Texas Tech
Sunday, January 29
Iowa State at Texas A&M
Tuesday, January 31
Oklahoma at Kansas
Wednesday, February 1
Kansas State at Texas
Baylor at Missouri
Oklahoma State at Iowa State
Texas A&M at Texas Tech
Saturday, February 4
Kansas at Texas A&M
Missouri at Texas Tech
Baylor at Kansas State
Oklahoma State at Oklahoma
Texas at Iowa State
Monday, February 6
Oklahoma at Baylor
Wednesday, February 8
Iowa State at Missouri
Kansas State at Texas A&M
Texas at Kansas
Texas Tech at Oklahoma State
Saturday, February 11
Kansas at Kansas State
Missouri at Oklahoma
Oklahoma State at Texas
Texas A&M at Baylor
Sunday, February 12
Iowa State at Texas Tech
Tuesday, February 14
Texas A&M at Missouri
Wednesday, February 15
Kansas at Iowa State
Kansas State at Oklahoma
Baylor at Oklahoma State
Texas Tech at Texas
Saturday, February 18
Missouri at Kansas
Oklahoma at Iowa State
Oklahoma State at Texas A&M
Texas at Kansas State
Texas Tech at Baylor
Tuesday, February 21
Texas at Baylor
Missouri at Iowa State
Texas A&M at Oklahoma
Kansas at Texas Tech
Wednesday, February 22
Oklahoma State at Kansas State
Friday, February 24
Baylor at Kansas
Saturday, February 25
Iowa State at Oklahoma State
Kansas State at Missouri
Oklahoma at Texas
Texas Tech at Texas A&M
Monday, February 27
Baylor at Texas A&M
Tuesday, February 28
Texas at Missouri
Wednesday, February 29
Kansas State at Iowa State
Oklahoma at Texas Tech
Oklahoma State at Kansas
Saturday, March 3
Iowa State at Baylor
Missouri at Oklahoma State
Texas Tech at Kansas State
Sunday, March 4
Texas A&M at Texas
Kansas at Oklahoma