Boost Mobile logos to debut on most WNBA jerseys tomorrow night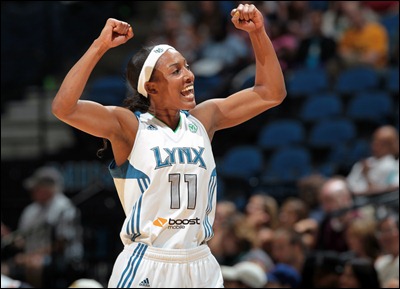 Boost Mobile logo rendering on the jersey of Minnesota Lynx player Candice Wiggins. (Courtesy WNBA)
The WNBA and Boost Mobile entered a deal that puts the logo of the wireless service on the jerseys of most of the league's teams. The wireless company that specializes in prepaid services entered into a multi-year agreement with the league. Boost Mobile is owned by Sprint Nextel.
The deal is the first league-wide marquee marketing partnership for the WNBA. Boost Mobile's logo will be on the front of jerseys all teams except for the San Antonio Silver Stars and the Phoenix Mercury. Those two teams have separate mobile phone partnerships. The jerseys debut in games tomorrow night when 10 teams will be in action on a five-game slate beginning with Los Angeles at Washington at 7 p.m. ET.
The San Antonio Silver Stars play in the AT&T Center and AT&T is a sponsor of several team promotions. The Phoenix Mercury has a MyMercury Mobile alert service run by Verizon Wireless plus a team "Verizon Insider" newsletter.
"An award-winning and dynamic brand such as Boost Mobile is a great fit as the WNBA's marquee partner," said WNBA President Laurel J. Richie in a statement. "The WNBA and Boost Mobile are two prominent brands and this groundbreaking relationship will provide both our fans and Boost Mobile's customers a great platform from which to be heard. Our partnership is a watershed moment for the WNBA, one that underscores the tremendous growth of our league and women's basketball over the past 15 years."
Boost Mobile will also have signage, in-game advertisements and will be the presenting partner of the WNBA Playoffs and WNBA Finals. Next season, Boost Mobile will be the title partner of WNBA All-Star festivities and an associate partner at the WNBA Draft and will be prominently featured within the WNBA-specific area of the adidas-sponsored NBA All-Star Jam Session each year.
"The WNBA is the premier women's professional sports league in the country with a loyal and diverse fan base that is an ideal match for the Boost Mobile brand," said Steve Gaffney, vice president-Corporate Marketing, Boost Mobile. "The assets this partnership provides are unprecedented, giving Boost Mobile the ability to maximize the value of the partnership and market our nationwide no-contract wireless service to a key customer base in major metropolitan areas across the country."
Founded in Australasia in 2000, Boost Mobile is a part of the Sprint Prepaid Group, the division that also runs Virgin Mobile USA. Service runs on both Sprint's CDMA network and Nextel's iDEN network.
Teams that already have prominent logos on their jerseys include Los Angeles, New York, Phoenix, Seattle and Washington.