Candace Parker pledges to continue fundraising effort to help fight Alzheimer's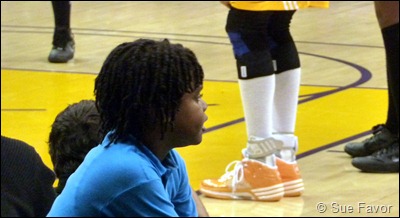 Tina Thompson's son Dyllan in the foreground and Candace Parker's orange Adidas shoes worn as a tribute to her former coach, Pat Summitt.
LOS ANGELES – Prior to the last night's game against the Tulsa Shock, Los Angeles Sparks forward Candace Parker pledged to donate ten dollars to the Alzheimer's Association for every rebound, steal and block she earned to honor Tennessee coach Pat Summitt who disclosed earlier this week that she has been diagnosed with early-onset dementia. Parker, a former Lady Vol who played for Summitt, helped Tennessee win back-to-back NCAA championships (2007 and 2008).
On "Wear Orange" day, an effort initially organized by a Lady Vol fan in Tennessee, Parker donned a pair of orange Adidas shoes in support of her college coach.
Hoopfeed.com's Sue Favor talked to Parker Friday night about her plans to continue her fundraising efforts.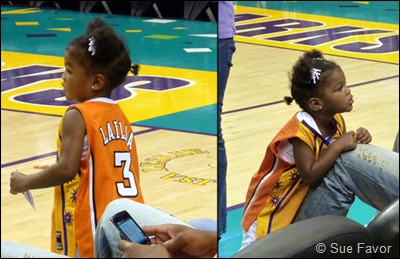 Lailaa Parker sports a Sparks-Tennessee jersey on "Wear Orange" day.
Q: When Pat Summitt made her announcement Tuesday, you responded that the Lady Vols would handle it like a family. What did you mean by that?
Parker: It means that we're there for one another, and that we'll be there for Pat – all she has to do is call if she needs anything. We'll do whatever we can to help her.
Q: Have you talked to Coach Summitt this week?
Parker: Yes, I called her, and that was good. I needed to talk to her.
Q: You raised some money tonight for the Alzheimer's Association. Do you plan to continue fundraising?
Parker: Yes, and I'm hoping it's something the WNBA will become involved in, too.