Dishin & Swishin: August 17, 2011 Podcast – Point guards present & past: Courtney Vandersloot & Shannon "Pee Wee" Johnson
[display_podcast]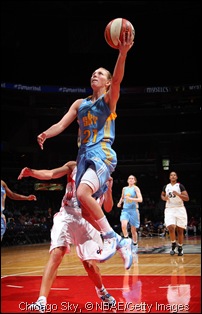 Perhaps the most difficult position to fill in the WNBA, or in basketball anywhere for that matter, is the point guard slot. Floor leader, distributor, play maker, scorer, defender — all rolled into one, with the ball in your hands the majority of the time. This week's Dishin & Swishin features conversations I had with two great point guards, one a rookie in the WNBA, one an all-time great and a finalist for the Top 15 Players in WNBA History.
Courtney Vandersloot exploded into the public eye with an amazing senior season and post-season run in this year's NCAA tournament. Vandersloot was the first Division I player, male or female, to have accumulated 2,000 points and 1,000 assists in a career. She helped take Gonzaga further than expected in the tourney. Her stellar play elevated her draft status and she went to the Chicago Sky as the No. 3 pick in this year's draft. She is part of a trio with backcourt mate Epiphanny Prince and center Sylvia Fowles, a combo the Sky hope will carry them into the playoffs.
It has been a whirlwind for Vandersloot, with off-court appearances, from bartending and waiting tables to breast health awareness events. On the court, there have been highs like an All-Star selection and an addition to the USA Senior National team pool. But the season has not been as consistent as Courtney would like. She is playing only 25 minutes per game, but working on improving all facets of her game.
Courtney and I chatted about moving to Chicago, the pressure to make the playoffs, the fun of playing with a post like Fowles and more. Chicago enters a stretch where they play six straight divisional games, and trail fourth place Atlanta by 1 game. This next stretch will make or break the Sky's playoff hopes.
I have always felt Shannon "Pee Wee" Johnson was underrated when looking at the greats of the WNBA, in part because of her success in the ABL before she joined the W. When the league started, the point guard slot was filled with low scoring, high distribution floor leaders, like Dawn Staley and Teresa Weatherspoon. Pee Wee was different. She was as likely to break you down or pull up and hit a jumper as she was to use her strength to penetrate and dish. She rebounded, she slashed through defenses. She now ranks third in WNBA history in assists (1,424) behind only Ticha Penicheiro and Sue Bird, and also ranks ninth in steals (494) and free throws made (1,017). One of my favorites, it was great talking to Shannon on topics like the ABL, the development of the WNBA and evolution of the point guard position, her favorites to play with, and toughest to play against, and the disappointment of never winning a championship. As she looks to begin a career in coaching, Shannon Johnson has a lot to offer.
I hope you enjoy this week's show!
Dishin & Swishin: The World of Women's Hoops is an Internet Radio Show hosted by David Siegel, devoted to the many facets of women's basketball.  From players to coaches to administrators and journalists, David strives to bring you an entertaining listen that also leaves you with something you didn't know before. Enjoy!
Subscribe to the Dishin & Swishin Podcast!