Dishin & Swishin: August 31, 2011 Podcast – Sharpshooters present & past: Katie Smith & Crystal Robinson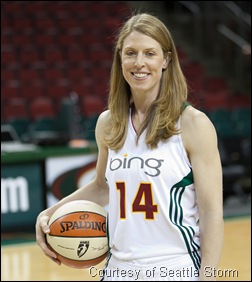 I'm pleased to tell you that the Dishin & Swishin on Hoopfeed podcasts can now be subscribed to via iTunes!  So if you enjoy your weekly women's hoops fix, go sign up as soon as you are done listening to this week's show!
[display_podcast]
Preseason, I picked the Seattle Storm to repeat as WNBA champions. The primary reason I did this, was the addition of Katie Smith to the Storm rotation. The consummate veteran, do-all player, Smith has won championships in both the ABL and WNBA, and has done it all.  She is defender, ball handler and most impressively, a sharpshooting scorer.  In fact, she is the all-time leading scorer in women's professional basketball.
The season has not exactly gone as planned, with Lauren Jackson missing time with her hip surgery, and Smith struggling to find the range through some injuries of her own. However, Jackson is back, Smith is finding the mark, and the rest of the pieces are slowly falling into place at just the right time. The Storm find themselves this morning in third place in the West, fighting it out with Phoenix for home court in an inevitable No.2 vs. No. 3 first round matchup with the Mercury. With four games to go, including a home court matchup with Phoenix, it is going to be a great race.  A favorite of mine as a player and as a person, it was a pleasure to talk to Katie.
In their new home away from home in New Jersey, the New York Liberty have created a "Ring of Honor" to celebrate their storied past. The first inductees were the deserving Teresa Weatherspoon, Sue Wicks, Vickie Johnson, and Kym Hampton. The fans voted Rebecca Lobo as the fifth choice.  Not surprising, Crystal Robinson was omitted, as she has always been the "forgotten soul" amongst the Liberty's early success years.  A tremendous scorer, defender and clutch sharpshooter, "C-Rob" was recently voted into the Oklahoma Sports Hall of Fame, only the third woman inductee.  She was a three-time NAIA All-American at Southeast Oklahoma, and then Rookie of the Year in the ABL.  When the ABL folded, Robinson was the sixth overall choice in the WNBA draft, ahead of people like Tari Phillips and Dawn Staley.
Lost in the discussion of T-Spoon's infamous "The Shot" to win Game 2 of the 1999 WNBA Finals is the fact that Robinson's 20 points in that game gave the Liberty a chance. Unfortunately, she is the only one of that group (Spoon, VJ, etc) that has not been brought back for any kind of honor or ceremony by the Liberty. Maybe soon the Liberty will realize the error of their ways and correct that.  For now, C-Rob is the head basketball coach at Murray State Junior College in Oklahoma, working with schools like Baylor. to prepare junior college athletes for their future.  As she works toward her goal of being a Division I head coach, Crystal is always fun to talk to and discuss things, including her past with the Liberty.
Dishin & Swishin: The World of Women's Hoops is an Internet Radio Show hosted by David Siegel, devoted to the many facets of women's basketball.  From players to coaches to administrators and journalists, David strives to bring you an entertaining listen that also leaves you with something you didn't know before. Enjoy!