After three-fourths of the WNBA season why Indiana's Lin Dunn is coach of the year
David Siegel talks to Dunn and Debbie Antonelli about the Fever's season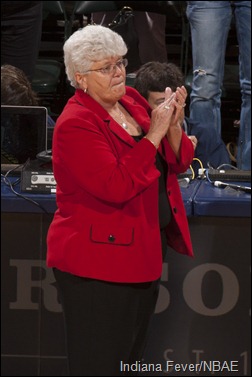 It would be fair to say that "great" coaches are something that over the years has been lacking in large numbers in the WNBA. This year, however, there have been some outstanding coaching jobs. Cheryl Reeve in Minnesota has turned around the franchise by harnessing the accumulated talent and making them a team. In Connecticut, Mike Thibault has taken a young franchise that failed to make the playoffs last year, and with little change, has them in the race for the Eastern Conference title. Nevertheless, Indiana Fever head coach Lin Dunn is performing the coaching job of the year.
Many people felt the window of opportunity had closed on the Indiana Fever. They had gone from the brink of a championship in 2009 versus Phoenix to not getting out of the Eastern Conference last season. The team had veterans starting to hit the downside of their career, and good, but not great players that no longer seemed to improve the vital chemistry of a championship team. Tamika Catchings and Katie Douglas were still there, and still capable of playing at an All-Star level, but there were question marks elsewhere, including at point guard, where Briann January was being asked to fill the starting role.
Unlike other teams that have chosen to simply add a role player to try and tweak their chemistry, the Fever did not hesitate to shake things up. Gone via free agency was Tully Bevilaqua, handing January the point guard job as well as back up guard Jené Morris. Add to that Ebony Hoffman, a strong contributor to the post rotation. Veteran champion Tangela Smith was brought in from Phoenix, and she and Jessica Davenport were put into the post rotation immediately.
The Fever signed another veteran presence Shyra Ely, who was coming off of knee surgery. The team also added two point guards that did not play in the league last year, Erin Phillips and Shannon Bobbitt, to add speed, quickness and defensive pressure. Finally, the team drafted sharpshooting combo guard Jeanette Pohlen out of Stanford, an elite college program known for its success.
It was up to Coach Dunn to quickly pull together a cohesive unit, with five out of 11 players new to the team.
"This year has been a transition year, where we brought in free agents that are young, plus our rookie draft pick," she explains. "We are focused on winning now but also preparing for the future when some of our older players retire."
Dunn also mentioned how important training camp was this year.
"Chemistry is built in training camp and this year we had everyone there. It's also easier to build team chemistry when you have quality veteran leadership like we have…and great people!"
The loss of January to a season-ending knee injury shook the chemistry and roles of players. The Fever, after a slight hiccup, hums along again, a tribute to both the players and the coach.
"We were fortunate to have two WNBA experienced point guards on our roster, Phillips and Bobbitt. That really helped us when Bri got hurt. The challenge has been for them to learn our system, both offensively and defensively, and that takes time. They may not have been in the league last year, but they both have quality WNBA experience and that is key. Both are highly motivated, very coachable, and hard workers."
As always, Catchings is the constant for the Fever. A player with an infectious attitude and aggressiveness, who will do whatever it takes and whenever it is needed for her team. In some ways, one of the more difficult jobs Dunn has is to protect Tamika from Tamika. If the former Tennessee star had her way, she would play 40 minutes a night, every night.
"We work very hard to keep Tamika's minutes around 30 or less," explains Dunn. "She needs rest just like all players, especially as hard as she plays. We are fortunate to have quality backups in Shavonte Zellous and Jeanette Pohlen."
When you have a player who has been an all-star like Tammy Sutton-Brown who is not ready for reduced minutes, but you have a rising star in backup Jessica Davenport, another potentially difficult task for a coach is to keep everyone happy, satisfied and contributing in positive ways. Coach Dunn respects the players and their feelings, but makes her priorities clear.
"My job is to figure out a way to win. We are fortunate we have two quality centers. We like Tammy's defensive intensity to start the game, and we like Davenport's offense off the bench. They complement each other."
In prior years, the Fever was not known for using their bench. The result of integrating players such as Davenport, Zellous, Ely, Bobbitt, and Pohlen so effectively is one of the best utilized and most productive benches in the WNBA, something that is crucial to this team's success.
"There hasn't been a change in philosophy," Dunn says, "as much as an adjustment to having four starters over 30 years old who need to have rest. And we have the most talented bench we have ever had – they deserve to play."
In the end though, defense has long been the strong suit of the Fever, and this year's team has really been taking it to another level. The Fever leads the league in fewest points allowed per game, and is also near the top in field goal percentage and assists allowed per game.
"Lin Dunn has always been innovative inside the details of the game," says Debbie Antonelli, television commentator and voice of the Fever. "She was the first to invert her defense on baseline out of bounds plays, meaning she pre-switches before the ball comes into play by putting a smaller defender on a larger offensive player before the ball is entered so when screens are set and switches take place, you are matched up properly, bigs on bigs and littles on littles. Those details are how the game of women's basketball continues to evolve."
You combine the offensive and defensive production of this team, and the results are clear for all to see. Sitting on top of the Eastern Conference, the Fever has the second best record in the league. Catchings and Douglas are looking fresh and healthy, partly due to the reduced load, and on a given night you can never tell who else will step up and lead the Fever. In a year when many picked the Atlanta Dream to run away with the East, it is again the Fever dominating the conference with their eyes on their first WNBA title.
Dunn has integrated five new players, dealt with the loss of their starting point guard, limited the minutes of their starters, and maximized the effectiveness of the bench. What else do you look for in a coach of the year candidate? Perhaps Debbie Antonelli said it best.
"Lin Dunn has always found ways to re-invent her teams and she is doing the best job managing this season," says Antonelli. "Questions about the age of this team and bench production have been put aside with positive decisions regarding personnel during the x and o part of the season, which is where it matters most. Tamika Catchings gives maximum effort and it's infectious, and Coach Dunn manages the team emotion and dynamic as well as anyone in the business. She has done a coach of the year job to this point with the Indiana Fever."