Leslie becomes the first former WNBA player to invest in a team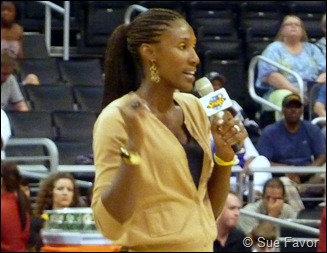 Lisa Leslie addresses the Staples Center crowd during halftime.
The Los Angeles Sparks announced during halftime of their home game against the Tulsa Shock Friday night that former star Lisa Leslie became the first former WNBA player to invest in a team in the league's history.
"With my investment in the Sparks, my basketball career has truly come full-circle," Leslie said. "After spending over a decade playing with the Sparks, and then the last two seasons as both a fan and team broadcaster, I couldn't be happier to rejoin the organization formally as a business partner and team ambassador. I look forward to being an asset to the Sparks in the areas of marketing and community outreach."
She joins chairperson Paula Madison and board members Kathy Goodman and Carla Christofferson. The native of nearby Inglewood and USC graduate starred for the Sparks for 12 seasons beginning with their inaugural campaign in 1997. She led the Sparks to back-to-back WNBA titles in 2001 and 2002 and earned three league MVP awards. She is also a four-time Olympic gold medalist.
"Lisa has always been a member of the Sparks Family, and we're elated to welcome her as a team investor," Madison said. "Beyond her accomplishments on the court, Lisa is a savvy businesswoman and the epitome of grace and class."
"Congratulations to Lisa Leslie on joining the Los Angeles Sparks ownership group," said WNBA President Laurel J. Richie. "She is a trailblazing ambassador with a long legacy of being a role model for the WNBA both on and off the court. She achieves another first by joining the ownership group of the LA Sparks and we know she will do great work in this role."
Lisa expressed her appreciation to fans via Twitter shortly after the announcement:
"Thanks to all my family, friends and fans! I am excited about joining the Sparks as Co-Owner! I look forward to helping the organization grow it's fan base and corporate sponsorship!"