Los Angeles "strike first" mentality in overtime fuels win over Phoenix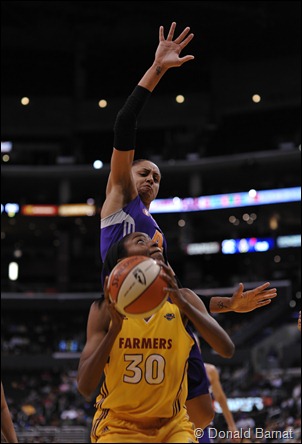 Mercury's Candice Dupree and LA's LaToya Pringle.
LOS ANGELES – Fueled by the career-high production of their first-round-draft pick, the Los Angeles Sparks (9-13) fought from a 16-point deficit to beat the Phoenix Mercury (13-10) Friday night in front a crowd of 10, 512 at the Staples Center. Jantel Lavender made consecutive baskets in key moments to help the Sparks overcome the Mercury and the Ohio State graduate finished the game with 25 points and 10 rebounds.
"I got in the game early and my teammates were feeding me the ball," said Lavender, a center who came off of the bench in the first few minutes of the game. "It was all about taking my time getting my shots."
Guard Noelle Quinn also put up big numbers for the Sparks with a 19-point effort.
"It feels good," said Quinn about the win. "It is just a testament to how we've grown as a team this season. Phoenix is a great team, we got after it on the defensive end, we were able to generate some offense and Jantel had a great game."
For much of the first quarter Phoenix seemed to be on its way to handing Los Angeles a rout as the Mercury built their biggest lead of the game.
"You're never out of a game," said Quinn about the deficit. "Sixteen points does sound like a lot but you can take each possession and if you get stops and score, that leads to a decrease. But it's mental, you can't get down at that point. When you 're down 16 you have to take it to that next level and just keep grinding and grinding each possession."
In the last three minutes of the quarter Lavender scored four points and made a key steal. Mercury guard Diana Taurasi led her team during the first quarter with eight points.
In the second quarter Lavender along with Quinn and guard Natasha Lacy continued to help their Los Angeles reduce the deficit. Lavender finished the half with a team high with 12 points, while Quinn had 11. Penny Taylor led Phoenix at the half with 12 points from three-point shots, driving layups and short jumpers.
While there were no lead changes in the first two quarters, at the break Phoenix's double-digit lead was gone and they went into the locker room just three points ahead of Los Angeles, 44-41.
During the third quarter, the teams traded baskets and despite the back and forth and the Sparks' effort to get within one point midway through the quarter Phoenix still led going into the last period, 62-60. The Sparks created a tie game in the first 20 seconds of the fourth quarter with a lay-up from Lavender. After free throws by Phoenix's Candice Dupree, Lavender made another lay-up for another tie but turnovers and fouls plagued the Sparks and Taurasi had back-to-back three-point shots to help her team build the lead back up again to nine, 74-65. Nevertheless the Sparks went on a 5-0 run then had two three-point shots from Quinn to end regulation with the teams even at 80.
"I feel LA did a good job of slowing down the game and that's not really where we do our best," said Taylor about her team's effort. "We needed to pick up the pace and we didn't. Lavender did a really good job in the post. We didn't do enough of a good job on Noelle Quinn in the end when she hit those big threes so you know they really took the game away from us."
As the Sparks' home crowd stood on their feet cheering, Los Angeles started overtime with two straight baskets, a running jumper from Tina Thompson followed by lay-up by Lavender.
Lavender said Thompson scoring the first bucket was huge because "it's all about how you start overtime, because overtime is mental. It's about who wants it most."
Thompson said that there is a "strike first" mentality in overtime, because often the first team that scores wins. But she also indicated that she had no specific plan to score that first bucket – it just happened that the ball came to her, so she took it in.
But the Mercury were not ready to throw in the towel and Dupree, Taylor, Taurasi helped them keep the game close. With just 33.6 seconds left in overtime, a driving lay-up from Taylor made it a one-point game. But a Mercury turnover, free throws from Sparks forward DeLisha Milton-Jones and a failed three-point attempt by Taylor in the waning seconds of the game sealed the deal and Los Angeles won its second game in a row.
The victory was a relief for Lavender.
"We didn't want to go to a second overtime."
Other players in double-digits for the Sparks included Lacy with 13 plus Thompson  and Milton Jones with 11 each. For Phoenix, Taylor had 29 points plus six rebounds, Taurasi scored 21, Dupree finished with 16 and Nakia Sanford added 10.
Los Angeles continues their home stand and host the Atlanta Dream Tuesday night. Sparks star forward Candace Parker is expected to be back in uniform for that game according to Los Angeles general manager Penny Toler.
Phoenix returns home to face Seattle on Tuesday.
Sue Favor contributed to this report.