Notre Dame, Stanford, Tennessee Dominate World University Games Team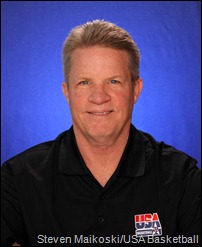 WUG Head coach Bill Fennelly
Iowa State Coach Bill Fennelly is certainly going to have players with familiarity on their side when they go to China to represent the United States in the World University Games.
Three players are from Notre Dame, led by point guard Skylar Diggins.  She will be joined by sharp shooting wing Natalie Novosel and physical post Devereaux Peters.  DePaul's Keisha Hampton is a 4th Big East player selected for the roster.
Two players each were placed on the team from both Stanford and Tennessee.  Stanford provides Fennelly with both of the Ogwumike sisters, Nneka and Chiney, while Lady Vols Glory Johnson and Shekinna Stricklen will strengthen the forward position.
Baylor point guard Odyssey Sims will help Diggins with the ball handling and two more outstanding shooters, USC's Jacki Gemelos and Delaware's Elena Delle Donne will certainly add offense to the explosive team.
Congratulations to all that were selected, and good luck as they try to follow the success of Jen Rizzotti's U19 team in winning gold.
Elena Delle Donne (Delaware/Wilmington, Del.)
Skylar Diggins (Notre Dame/South Bend, Ind.)
Jacki Gemelos (USC/Stockton, Calif.)
Keisha Hampton (DePaul/Philadelphia, Pa.)
Glory Johnson (Tennessee/Knoxville, Tenn.)
Lynetta Kizer (Maryland/Woodbridge, Va.)
Natalie Novosel (Notre Dame/Lexington, Ky.)
Chiney Ogwumike (Stanford/Cypress, Texas)
Nnemkadi Ogwumike (Stanford/Cypress, Texas)
Devereaux Peters (Notre Dame/Chicago, Ill.)
Odyssey Sims (Baylor/Irving, Texas)
Shekinna Stricklen (Tennessee/Morrilton, Ark.)