Sparks hold off Tulsa, last 90 seconds a fight to win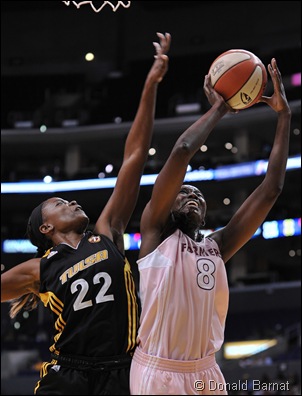 Tulsa's Sheryl Swoopes and L.A.'s DeLisha Milton-Jones
LOS ANGELES – Once again, the Los Angeles Sparks let a lead dwindle in the final period Tuesday night and once again, the last 90 seconds of the game was a fight. But this time the host team prevailed, beating the visiting Tulsa Shock 71-66 and getting their first home court win in almost two months.
Ticha Penicheiro lead the Sparks with a season-high 23 points on 7-10 shooting. Tina Thompson and Natasha Lacy each added 12.
"They made a couple of runs and we were able to withstand them," said Thompson about her team's ability to come out on top. "I think our defense was definitely key. I mean offensively we didn't shoot as much as we wanted to but you know that happens and we just have to keep on."
In spite of Tulsa's record, the worst in the league, Thompson and Penicheiro indicated that coming into the game, they were not going to take their opponent for granted. Tulsa is now 1-20 while the Sparks broke a three-game losing streak and are now 8-13.
"They play hard," said Penicheiro. "They fight and they never give up."
Thompson agreed.
"They were a tough team. They're kind of team that doesn't just go away so every opportunity you give them they're going to try to keep on pushing and pushing."
Los Angeles entered the fourth quarter with a 10-point lead. But Tulsa forwards Tiffany Jackson, who finished with 18 points, and Sheryl Swoopes, who had 12, combined to chip away at the deficit. A Swoopes 13-foot jump shot at the 4:04 mark put the Sparks' lead at 66-62.
Center Liz Cambage's layup at 59 seconds put the Shock behind 66-69, but they seemed to run out of gas. Penicheiro made the game's final points with a pair of free throws.
"They got key offensive rebounds down the stretch," said Jackson.
For Tulsa, it was their 15th consecutive loss. Jackson acknowledged that it was "frustrating" for herself and her teammates, but said they were all trying to stay positive and get better.
"We think it's one thing, but we can't put our finger on it," she said. "We know for sure it's not effort."
Cambage had 16 points for the Shock.
This was the first home win for the 8-13 Sparks since June 21. It was also the first time Penicheiro had been in the starting lineup in 11 games, as Kristi Toliver was not with the team tonight for what the Sparks said was "personal reasons."
Penicheiro maximized her opportunities in Toliver's absence.
"I was just trying to do individually what I can to help this team,' she said, "and today because we were missing a player I could start again and I was trying to make the most of my minutes."
But ultimately, she gave credit to the team for pulling out the win.
"It was a great team win, I'm glad we got it and hopefully we can build from there and go on a little winning streak."
Cheryl Coward also contributed to this report.