The sports world reacts to news about Pat Summitt with compassion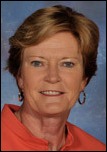 As the news about the medical condition of legendary basketball coach Pat Summitt spread yesterday afternoon, the sports world began to voice its appreciation, consolation and other heartfelt emotions about the winningest basketball coach in NCAA history. Fans of the game were forced to imagine a Lady Vols basketball program without her at the helm, a tremor in the midst of an earthquake that made the ground move all along the Eastern seaboard.
From her son Tyler to former players to those who have never picked up a basketball but associate women's basketball with the name Summitt, the kind words about the coach flowed from press releases, Twitter messages including a short message from hip-hop star Lil Wayne and in the case of Washington Post writer Sally Jenkins, a long-form superbly written article about her friendship with the coach and prognosis for the coach who is considered a state treasure in Tennessee.
"Now she will need a different kind of counterintuitive strength," wrote Jenkins about Summitt's resolve . "Surrender and acceptance have never come naturally to her, nor has admitting vulnerability. She has trouble even uttering the word Alzheimer's. But she's learning."
Jenkins revealed that with a treatment and mental exercises, Summitt is fighting the onset of Alzheimer's"
"Every morning she reads, or studies math problems on flash cards. Each night she spends hours working on her iPad, doing puzzles to improve her cognitive abilities."
Summitt, who will continue to coach for as long as possible while stemming the progression of early-onset dementia released her own statement and a video yesterday.
"I plan to continue to be your coach," said Summitt. "Obviously, I realize I may have some limitations with this condition since there will be some good days and some bad days."
Reactions
Tyler Summitt
Pat Summitt is not only my mom, but also an incredible role model and mentor for me. It seems like she teaches me something new every day, and she is currently giving me one of the best life lessons of all: to have the courage to be open, honest, and face the truth.

This will be a new chapter for my mom and me, and we will continue to work as a team like we always have done. We both appreciate the continued support of the Lady Vol family. Our faith is in the Lord and we trust that God has a plan for us. Looking forward, nobody is as ready for the 2011-12 basketball season to start as much as the Summitt family. God Bless.
Indianapolis Colts quarterback and former Tennessee star Peyton Manning
I want to extend my deepest sympathies and prayers to Pat during this difficult personal time. Pat is a great friend, and I am pleased she will continue to lead her program. For many years,

Pat has shaped countless lives through her sacrifice and dedication to Tennessee athletics.

I ask others who admire her and who have been impacted by her work to join me in wishing Pat and her family every comfort as we respect their wishes for privacy.
Notre Dame head coach Muffet McGraw
I was saddened and shocked to hear of today's news regarding the health of Coach Summitt, who is an icon, not only in women's basketball, but throughout all of women's sports. Our thoughts and prayers are with Coach Summitt, her son Tyler and the whole Tennessee women's basketball program as they go through this difficult and challenging time.
Former Lady Vol and current WNBA player Candace Parker via Twitter
Coach Summitt you never cease to amaze me with your strength and courage. Whenever you face adversity you tackle it head on! True inspiration for me and one of the strongest women I know. I love you and we will handle this together as the Lady Vols always have, like FAMILY.
Former Lady Vol and current WNBA Player Ashley Robinson via Twitter
What a Blessing 2 know and have played for #PatHeadSummitt. I pray she always knows how much we love and appreciate her. #govols #heavyheart

Love you Coach! @patsummitt You always said " One day you're going to miss your coach and the University of Tennessee." You were so right!! Xoxo
Tennessee Associate Head Coach Holly Warlick via Twitter
Pat Summitt….what courage and inspiration! You continue to amaze me! you are still a damn great coach!! Much love!!
UConn coach Geno Auriemma
I was shocked and saddened to hear about the news regarding Pat Summit's diagnosis. You don't necessarily associate dementia with people our age so this announcement really put things in perspective. Pat has great support from her family, friends and staff and I know they will help her immensely. There is no doubt in my mind that Pat will take on this challenge as she has all others during her Hall of Fame career, head on. I wish her all the best.
ESPN analyst, former UConn and WNBA player Rebecca Lobo
Absolutely heartsick when I heard the news about Coach Summitt. She has always been a class act when dealing with me.
Former Lady Vol and LSU coach Nikki Caldwell
I've known Coach Summitt for 23 years and there has never been a fight that she's backed down from. All of us who have played or coached under her leadership, we know she will take this fight on like she does with every task. She will do it with dignity, toughness, courage and an unwavering commitment. Those are the same qualities she has always expected and instilled in her players for 37 years at Tennessee. She's been a friend and a mentor for me my entire playing and coaching career. More importantly, she is the standard in the coaching profession and taken women's basketball to unparalleled heights. I know she is going to coach as long as she wants to and continue to be the ultimate competitor she has always been. Our thoughts and prayers go out to her, her son Tyler and her entire family. I will always be here for her as a friend and I look forward to seeing her on the bench this season.
Tulane assistant coach Doshia Woods via Twitter
Shocked to hear about Pat.. An ICON in basketball period!!! Forget the women's part or anything else! #prayers

The news of Pat Summitt has me all emotional.. A huge part of my choice to coach was inspired by #patsummitt (Final 4 1998) #sad

Even watching her thru all those years aspiring to "be like her".. I know this next fight she battles will be the most inspiring!
Georgia coach Andy Landers
Ours was a friendship born 36 years ago. Having known and respected Pat throughout that time, I'm saddened to hear this news. Pat has identified the problem and has a game plan to combat it. She certainly has the support of everyone. My thoughts and prayers are for her and her loved ones as she meets this challenge head-on with typical Pat Summitt competitiveness.
Interim Vice Chancellor/Director of Athletics Joan Cronan
Pat Summitt is our head coach and she will continue to be. She is an icon not only for women's basketball but for all of women's athletics. For Pat to stand-up and share her health news is just a continuing example of her courage.

Life is an unknown and none of us has a crystal ball. But I do have a record of knowing what Pat Summitt stands for; excellence, strength, honesty and courage.
Tennessee Chancellor Jimmy Cheek
It takes amazing courage for Pat to come forward and discuss her health with her players, our fans and the entire country, but that's who she is. Pat Summitt stands for courage and integrity. We will stand behind her and support her in every way possible. We look forward to her continued leadership as the Lady Vols head coach and I know that even through this adversity she will be an inspiration to all of us.
Kentucky men's basketball Coach John Calipari via Twitter
When I heard about Coach Summitt, I was stunned. Pat Summitt transcends her sport. She is more than just a coach & a leader in her field.
Auburn men's basketball coach Tony Barbee via Twitter
Best wishes to Pat Summitt and her family as she battles through these difficult times. I have no doubt she will be able handle the challenge.
Mark Emmert, NCAA President, and Sue Donohoe, NCAA Vice President of Division I Women's Basketball
Coach Summitt is a role model, trailblazer and icon for women's basketball. For years she has given so much of herself to the game she loves, always serving as a staunch advocate and supporter for her players, her teams and the women's game in general.

We here at the NCAA stand shoulder to shoulder with Coach Summitt, salute her courage and candor in announcing her illness and applaud her determination to move forward.

Above all, we look forward to continuing to work with and support her.
Around the Web