After 15 years, WNBA inaugural season ticket holders talk about their dedication to teams from the original eight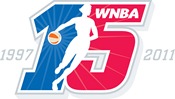 The one constant in the 15-year history of the WNBA has been change. In fact, out of the eight original teams that formed the league in 1997, only three are left: the New York Liberty, Los Angeles Sparks and Phoenix Mercury.
But some things do not change, like several of the season ticket holders of each franchise. There are a handful in each city who have kept their seats since they first reserved them in 1997. Three of them now reflect on how the WNBA has changed over the years, explain why they keep coming back through thick and thin, and recall their fondest memories.
Jean Schmidt, New York Liberty inaugural season ticket holder

One of, if not the most famous moment in Liberty history, was Teresa Weatherspoon's half-court shot in the 1999 WNBA finals. The legendary point guard launched the ball just before the buzzer of game two of the series, against the Houston Comets. Improbably the ball went in, forcing a game three.
"I've had that picture in my office for the longest time," said inaugural season ticket holder Jean Schmidt. "It's the one taken from behind, where Spoon is off the ground and the ball is in mid-flight."
Other memories came flooding back for Schmidt this summer, as the franchise created the "Ring of Honor." Five retired players were inducted into the "ring" to honor their accomplishments.
"It reminded me how close those women were," she said.
Close-knit teams were the modus operandi when the league first begun, in Schmidt's view. She does not see that as much in today's WNBA.
"Back then it was all new, and the players were very grateful to have a place to play professionally," she said. "Now it's a different game, and women come into the league already known in collegiate basketball."
The women's game has evolved a lot, according to Schmidt, who has followed it for decades.
"The level of skill of the players is much higher because they were taught basketball at a very young age," she said. "They are also faster, quicker and are better shot-makers."
A self-described lifelong women's sports fan and supporter, Schmidt bought four Liberty seats "as soon as they allowed us to sign up." She's kept them ever since, inviting friends to join her for games. During the summer when she traveled to New Hampshire on vacation, she would drive back for Liberty games.
"Liberty games are very family-oriented," she said. "I've made friends with other season ticket holders, and we have a whole other connection."
Schmidt said the Liberty regularly drew 11,000 fans per game in their earlier days. Though crowd size has dwindled, she will not be giving up her seats anytime soon.
"It's important that young women have a place to play past their college careers.".
Mercy Sanchez, Los Angeles Sparks inaugural season ticket holder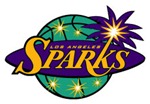 Oh, the pictures. There are pictures of Weatherspoon warming up and then playing at the Forum, where the Sparks used to host home games. There are pictures of a twiggy Rebecca Lobo posting up, 15 Los Angeles players looking at the flag with their hands over their hearts during the anthem. There are pictures of Lisa Leslie at every event the Sparks ever hosted.
Mercy Sanchez is the picture woman. She started taking pictures of WNBA games from the get-go, and she has never stopped. A few years ago team management gave her access to the photo area courtside so she could snap away. Sanchez gives her photos to the Sparks players, and to the organization to use for marketing.
"They love them – they get excited," Sanchez said of the players when they receive their fat envelopes of pictures from her. "I enjoy doing it."
Sanchez also goes out of her way to attend games. She has made the 90-mile drive to Los Angeles from Ventura and back for every home game the Sparks have had, since 1997. Her explanation is simple.
"Because that's the love of my life – women's basketball"
Sanchez played herself in 1969, but there were no opportunities for women then. She loved the 1996 team, headed by Leslie, that won the gold in Atlanta. When it was announced the next year that Los Angeles would have a WNBA team, buying season tickets was a no-brainer.
In the early days of the team's existence, players would get dressed after games and hang out with season ticket holders in the VIP club that the Sparks created for them. Leslie gave Sanchez her games shoes after the All-Star game in Phoenix because Sanchez held up a towel with the star's name on it.
Among Sanchez' other favorite memories are Leslie's and Candace Parker's dunks, and her favorite season was 2001, when the Sparks won their first title. But not all seasons have been golden, like this year when Los Angeles did not make the playoffs. What keeps her coming back?
"I want to support them and see the WNBA succeed," Sanchez said. "I want this league to continue on."
Harriett Leeke, Phoenix Mercury inaugural season ticket holder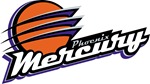 All of her life, Harriett Leeke said her friends had called her "the procrastinator" because of her infamous habit of putting things off. But then the Phoenix Mercury came together, and Leeke changed – fast.
"I was the first one in line to buy season tickets," she said, and added with a laugh, "it's the only time I've been first in anything in my life."
Not only was she the first, but Leeke has proven to be among the most loyal fans: the 77-year-old hasn't missed one home game in 15 years. She sits behind the Mercury bench with an old high school friend who is one year older than her.
Leeke played numerous sports in high school, and has always enjoyed women's sports. Prior to the Mercury's arrival in Phoenix, Leeke had been attending Arizona State University women's basketball games.
"When I heard there was a pro team coming to town, I thought that would be fun."
Leeke said if there is one franchise moment that stands out, it was when the Mercury made it to the WNBA finals in 1998. Then-coach Cheryl Miller jumped on on the press table, according to Leeke, and started screaming at the packed arena, "we did it!"
"She whipped us into a frenzy," Leeke said. "It was just chaos in there – it was amazing."
As for why Leeke has stuck by her team through thick and thin all these years, she said she is old school.
"I don't believe in quitting on a team," she said. "When they're losing, you hang in there. Things will get better."