Cal State Northridge reloaded for 2011-12 with five freshman and two transfers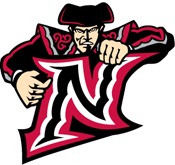 NORTHRIDGE, Calif. – When Jason Flowers took over the beleaguered California State University, Northridge program last year, he knew change was going to come after hard work. But thanks to the strong cache of newcomers he landed for this year, he will get some help with that work.
There are seven new Matadors on the roster: five of them freshmen, and two transfers. Flowers said two of the frosh are already as experienced as the transfers, and the entire team has been working together since July to improve on last year's 4-26 record.
"The assistant coaches have done a great job of building relationships with the kids," Flowers said. "The newcomers are comfortable being part of the program and they like the direction we're going."
The once-lauded Northridge program had languished in the basement of the Big West Conference for seven out of the eight years before Flowers took the helm in May 2010. In the 2007-2008 season, the Matadors won only one game.
Flowers came from the University of California, Riverside and brought one of his assistants, Lindsey Foster. He also hired Christine Collins-Kiernan, a longtime assistant at Mater Dei High School (Santa Ana, Calif.), and Bryan Camacho, who had been the head coach at Bellarmine-Jefferson High School (Burbank, Calif.).
Last spring Camacho left Northridge to go back to coaching high school ball. His replacement is Mario Trutanic, who has coached at Long Beach State, San Francisco State, Santa Monica College, and most recently, Oaks Christian High School (Westlake Village, Calif.). Flowers said Trutanic has "a high basketball IQ."
The biggest fish CSUN landed this year might be Janae Sharpe of Rialto High School (Rialto, Calif.). Ranked 27th in the country at the guard position, Sharpe helped lead her team to a CIF Division II championship last year. She is known for her quickness, and for both her offensive and defensive tenacity.
Another experienced freshman is Jessica Duarte, from Mater Dei. The forward was a starter in her senior season for the first-ranked Monarchs, and helped the team win back-to-back state titles.
Jianni Jackson, a 6-foot-2 junior, is a transfer from Mount San Antonio College in Pomona. Flowers said she is long, athletic, and is a versatile post-player who can also play outside the paint.
The other transfer is guard Kaitlyn Petersen, a sophomore transfer from Gonzaga. Flowers called her "a high-level guard who is unstoppable once she gets going."
The Matador staff went to Savannah, Georgia to get six-foot guard Randi Friess. Her background also includes playing soccer, volleyball and running track. Flowers said she is a solid athlete with a lot of skills.
Guard Ashlee Guay hails from San Diego. Her new coach says she plays very hard, and is quick.
"Ashlee is a coach's daughter, so she has a very good understanding of the game," said Flowers said.
Camille Mahlknecht is a 6-foot-2 center from Agoura High School (Agoura, Calif.). Flowers said that in the last five games of her high school career, she had triple-doubles in points, rebounds and blocks.
Among the five returning Matadors is center Jasmine Erving (Huntington High School, Santa Ana, Calif.), who was a Big West Conference all-second team selection last year. Flowers said she has been working out since the 2010-2011 season ended.
"She is really committed, and has done a lot to improve her game," he said.
CSUN will open the season November 11 with four road games, including playing Oregon State and the University of Washington. They host their home opener, in the remodeled Matadome, as part of the Woodland Hills Holiday Inn Thanksgiving Basketball Classic 2012. Big West Conference play begins in January.