Dishin & Swishin September 29, 2011 Podcast: Kara Lawson breaks down the WNBA finals, makes announcement
[display_podcast]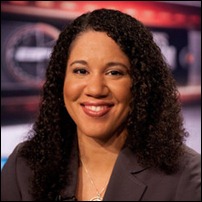 This weekend the WNBA Finals begin, bringing an end to the 15th season of the league. It has been an entertaining season, with highs and lows for every team. There have been injuries and returns, records and lowlights as well. So it is only fitting that two of the most entertaining teams in the league should be meeting with bragging rights on the line. For the first time in one of their franchise's histories, either the Minnesota Lynx or the Atlanta Dream will bring home the title.
The Western Conference champion Lynx started the season with the weight of great expectations. Having added number one draft pick and former UConn star Maya Moore and veteran center Taj McWilliams-Franklin to a talented group already in place, anticipation was high in Minnesota. Most importantly was the return to good health of Seimone Augustus after a 2010 season filled with injury. Augustus returned to being the dominant scorer, allowing Rebekkah Brunson to be the rebounding and defensive machine she is, and point guard Lindsay Whalen, with all of the weapons around her, produced a near Most Valuable Player season herself. The Lynx finished the regular season with a 27-7 record, and in the Western Conference playoffs dispatched the San Antonio Silver Stars and Phoenix Mercury in three and two games, respectively.
They Lynx face the Eastern Conference champion Atlanta Dream who return to the WNBA finals for the second straight season. The Dream had a nightmare beginning, starting the season 3-9 as Sancho Lyttle and Angel McCoughtry battled injuries and Lyttle spent time with the Spanish national team. They turned it around, however, in a big way in mid-July. McCoughtry was unstoppable at times, and produced MVP numbers as well. Erika de Souza evolved into a dominant post player, and while Iziane Castro Marques struggled with her shot through most of the season, Armintie Price was a much improved offensive player as well as a high energy defender and rebounder.
This year, the Dream also corrected the one deficiency they had in the Finals last year, a top level point guard. The addition of Lindsey Harding has been a tremendous addition, and the Dream benefitted from her game. During the Eastern Conference playoffs, they swept the Connecticut Sun in two games and Indiana in three.
To dissect and analyze the matchup, Dishin & Swishin is pleased to bring you one of the best women's basketball announcers, as well as an outstanding player with an Olympic gold medal and WNBA championship in her background, Kara Lawson of ESPN and the Connecticut Sun.
In Sacramento, Lawson saw what it took to win it all. She played beside Minnesota's Brunson with the now-defunct Monarchs, and against all of these players, including Atlanta in the first round of the playoffs this season. Lawson knows the strengths and weaknesses of each team, and her broadcasting skills allow her to objectively evaluate the series. So who does Lawson think will win the series? Well for that you will have to listen.
Honoring Pat Summitt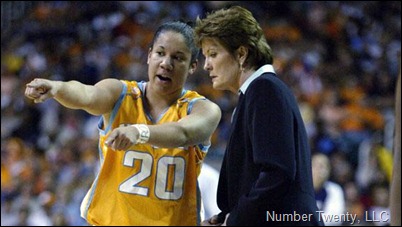 In addition, we discussed an endeavor that she and her husband Damien Barling "teased" about so well on Facebook and Twitter this past week. While many, including myself, wondered if Kara might be having a baby based on her tweet, I am proud to help Lawson and Barling promote an adventure and endeavor of another kind.
In our interview she said that Tennessee coach Pat Summitt has always pushed her players to try and do things that seemed out of reach—things that push the individual's abilities and spirit. To honor that influence, Lawson and Barling are both participating in activities around the New York City marathon.
Lawson will be running a 5K race, and Barling will run the marathon. Neither has ever run these distances before, and the excitement in taking on this challenge is evident in Lawson's voice. They are doing it to raise money for the Alzheimer's Association in honor and in the name of Summitt. There is a link for the donation page on Lawson's Facebook Fan Page, her Twitter page, the official website, and the Connecticut Sun website. Anyone who donates $25 or more is eligible for a giveaway of autographs, jerseys, Sun tickets, and more.
I hope you enjoy the podcast as much as I did making it, and, while I know the economy is taking a toll on us all, I hope you can support Lawson and Barling as they push themselves in a way that will most certainly make Summitt proud of her former floor leader, and will help a great cause.
Dishin & Swishin: The World of Women's Hoops is an Internet Radio Show hosted by David Siegel, devoted to the many facets of women's basketball.  From players to coaches to administrators and journalists, David strives to bring you an entertaining listen that also leaves you with something you didn't know before. Enjoy!