Lynx advance to Western Conference finals for first time in franchise history, set to face Phoenix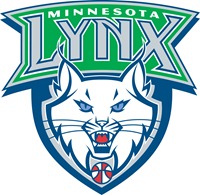 The Minnesota Lynx continue to set franchise records and with a win over San Antonio last night advance to the Western Conference finals for the first time in the team's history. Behind the offensive prowess of four players in double figures, the Lynx defeated the Silver Stars 85-67 in front of a crowd of 8,734. For 2011, the Lynx have the best regular season record in the WNBA (27-7). They now face the Phoenix Mercury in a best-of-three series bid for the Western Conference title.
Seimone Augustus led her team with 22 points and eight rebounds. Taj McWilliams-Franklin scored 16 points plus three rebounds and four assists. Forward Rebekkah Brunson had 15 points, nine rebounds and two assists. Maya Moore finished with 14 points, six rebounds and four assists. Sophia Young led the Silver Stars with 17 points.
A Team Effort
Overall, Minnesota head coach Cheryl Reeve was pleased with her team's performance.
"I think we were fun to watch today. I think we got back to Lynx basketball which was sharing the basketball, moving it around, side-to-side, getting our post players involved and in a good position to score," she said. "I told our players that I was just really happy with their execution of the game plan on both sides of the ball. They were extremely committed and that's what it takes to close out a team in game three in the playoffs. I was impressed with how well they did."
Reeve also praised Augustus.
"Seimone's been a stud, she's been an absolute stud, you know just the way she has responded. This is her first playoffs. She's just been impressive. Obviously she can just absolutely score the ball. She has this look about her that just makes me feel so good inside knowing that she's on my side."
Video: Watch Reeve in the post-game press conference
While overall the Lynx's playoff experience is scant, four Minnesota players have appeared in the WNBA Finals with other teams: Brunson in 2005; McWilliams-Franklin and Alexis Hornbuckle in 2008; and Lindsay Whalen in 2004 and 2005. McWilliams-Franklin leads the pack in the number of postseason games played at 47. Brunson is second with 26 postseason matches.
Tip off for game one of the best-of-three series is set for 8:00 p.m. CDT on ESPN2. If necessary, Game 3 will be played in Minnesota on Tuesday, September 27 at a time to be determined.
How the Lynx Advanced
Game 1: Lynx 66 – Silver Stars 65
Game 2: Silver Stars 84 – Lynx 75
Game 3: Lynx 85 – Silver Stars 67
Regular Season Series Between the Lynx and the Mercury
The Lynx won the regular season series against the Mercury 3-2. It was the first time since 2004 that Minnesota took the series over Phoenix.
Western Conference Finals Full Schedule
Game 1: Thursday, September 22 at Minnesota, 8:00 p.m. CDT, ESPN2
Game 2: Sunday, September 25 at Phoenix, 4:00 p.m. CDT, ESPN2
Game 3: Tuesday, September 27 at Minnesota, TBD, TBD