Sophia Young and Kim Mulkey excited about the San Antonio star's USA Basketball training camp invitation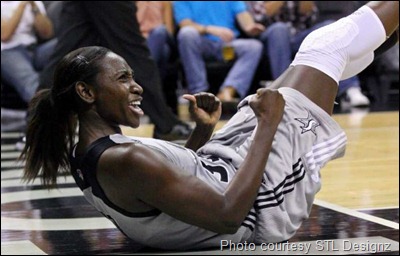 Just weeks after becoming a United States citizen Sophia Young received an invitation to train and travel with the U.S. National Team. The San Antonio Silver Stars forward and former Baylor star will join the squad on a five-game European exhibition from September 27 to October 9. Silver Stars teammate, rookie Danielle Robinson (Oklahoma), also received an invitation to train and travel with USA Basketball and will participate in three games.
Other players participating include: Swin Cash (Seattle Storm), Tina Charles (Connecticut Sun), Brittney Griner (Baylor University), Asjha Jones (Connecticut Sun), Renee Montgomery (Connecticut Sun), and Cappie Pondexter (New York Liberty).
"I am truly honored to be invited to USA basketball training," said Young to Hoopfeed. "It means that a lot of hard work has paid off and to be considered to participate on the best team in the world is amazing."
Young, a former Baylor standout who led that Lady Bears to the national title, was born in St. Vincent, the Grenadines and came to the U.S. as a high school exchange student at Evangel Academy in Shreveport, Louisiana. During her senior year she led Baylor to the 2005 NCAA Championship title leading all scorers with 26 points.
Baylor head coach Kim Mulkey is thrilled that Young is now a U.S. citizen and received a national team invite. The coach was member of the USA's gold medal-winning team at both the 1984 Olympics and the 1983 Pan American Games.
"I am excited that Sophia has her citizenship" said Baylor head coach Kim Mulkey. "I know that that was a priority for her and she has really been patient in going through the process and I'm so happy for her for that. And now for her to be invited to be looked at for the USA Olympic team is something you can only dream about. I know that Sophia is a special player, a special young lady and to think that the timing of this is so perfect for her to have the opportunity to do this."
She also lauded Young's post skills and what she could contribute to USA Basketball.
"Sophia is a post player that moves very well, she's athletic, she's a tremendous scorer," said Mulkey. "We all know what she brought to the table for us, not only did she bring a national championship, but she's  just a great person and that's the type of athlete you're looking at."
A Goal Realized
Shortly after finding out she received the invitation Young answered questions about her citizenship and the national team.
How long has it been a goal of yours to get a Team USA camp invite?
It has been a goal of mine since I came into the WNBA but of course I had to be a citizen first so that hindered the process.
What were your feelings when you first heard about the invite?
I was speechless. I felt like "maybe when people tell me that I am a good basketball player, I should believe them (smile). I just simply said "thank you Jesus."
How do you feel about potentially being able to play alongside Baylor player Brittney Griner for the United States?
I am excited to get to know Brittney on a personal level. I'm sure she has enough people talking to her about basketball. So I would love to get to know who she is as a person and if we can both get to hang out with each other as USA basketball then I would love that.
What has the Baylor program meant to you?
I will always treasure my time at Baylor. It was the best consecutive four years of my life thus far. The people who were there during my time mean a lot to me. I thank the Baylor program for all that they have done for me and I am glad that I was a part of putting Baylor on the map as one of the tip programs in the country.
What are your goals for performing in camp and what skills in particular do you think you can add to Team USA?
Since it is my first camp, I'm not so sure what to expect. I am going in with an open mind and a willingness to learn. I know that Geno is an amazing coach and I want to retain anything he teaches me. My goal is to make the best use of this opportunity. I feel so blessed and highly favored by the lord. God is so so so good.
Baylor's Duo
Baylor's coach also weighed in on having two products of Baylor women's basketball on the tour.
"Obviously, I'm very, very proud that we Brittney and Sophia are representing the USA in Europe," said Mulkey. "I'm grateful that I've been a small part of their lives and I know how much they're loved at Baylor and what they mean to Baylor and to this program. The international competition is important for Brittney's development as a player. She's still young, she's going to be the youngest one to go over there but it will be great for Brittney's development for when she comes back to the US."
Griner is the only collegiate player on the national team roster.
"I am very excited and looking forward to playing internationally," said Griner. "I know the international game is a bit different, it's a different style of play and is pretty physical. I am honored to be able to wear the USA jersey, it's very humbling."
Schedule and Team Additions
The training squad plays its first game in Naples, Italy in a tournament that includes Italian champions Famila Schio, 2011 EuroLeague final four contestant Ros Casares Valencia and the local club. The U.S. team will also play Ros Casares in Valencia and then go on the road again to face 2011 Czech league champion ZVVZ-USK Prague followed by UNIQA-Euroleasing Sopron in Hungary on October 9.
Coaches for the tour include head coach Geno Auriemma (Connecticut) plus assistant coaches Doug Bruno (DePaul University) and Jennifer Gillom. Marynell Meadors (Atlanta Dream) was also slated to assist but the Dream is still participating in the WNBA Eastern Conference finals.
Candice Dupree and Diana Taurasi from the Phoenix Mercury are expected to join the squad in Europe later this week. Athletes to be announced from the Atlanta Dream or Indiana Fever may join the U.S. team following the conclusion of the WNBA Eastern Conference finals.
In addition to the European tour participants, Dupree and Taurasi, the 2011-12 USA Basketball women's national team pool includes:
Jayne Appel (San Antonio Silver Stars), Seimone Augustus (Minnesota Lynx), Alana Beard (Washington Mystics), Sue Bird(Seattle Storm), Rebekkah Brunson (Minnesota Lynx), Tamika Catchings (Indiana Fever), Shameka Christon (Chicago Sky), Sylvia Fowles (Chicago Sky), Lindsey Harding (Atlanta Dream), Ebony Hoffman (Los Angeles Sparks), Kara Lawson (Connecticut Sun), Angel McCoughtry (Atlanta Dream), Maya Moore (Minnesota Lynx), Candace Parker (Los Angeles Sparks), Courtney Vandersloot (Chicago Sky), Kia Vaughn (New York Liberty), Lindsay Whalen (Minnesota Lynx) and Candice Wiggins (Minnesota Lynx).