Sparks end on high note, Chatman on the Sky next season, Penicheiro contemplates retirement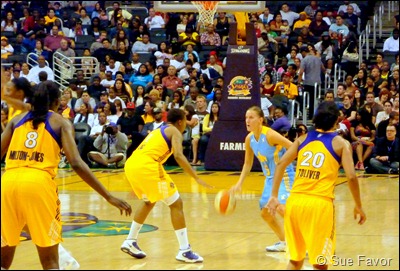 LOS ANGELES – The Los Angeles Sparks ended a disappointing season on a high note Saturday, beating the Chicago sky 74-67 behind DeLisha Milton-Jones' 15 points in front of a crowd of 13,501.
The Sparks got points from every player except forward Candace Parker, who sat out the second game in a row after a flare-up of her June knee injury earlier last week.
For the Sky, center Sylvia Fowles put up 18 points and pulled down 11 rebounds, Dominique Canty scored 16 and Erin Thorn added 12.
"We did a good job with our defense, with getting out in transition," said Milton-Jones. "We were able to attack from different angles and find the mismatch."
Chicago blazed to an early lead in the first quarter before Los Angeles surged back, and kept the score close through the third quarter. Two consecutive layups by Milton-Jones early in the fourth quarter put the Sparks up by six. At 5:39, Milton-Jones made a three-point shot that extended her team's lead to 10. The Sky never recovered.
Fowles became Chicago's all-time leading rebounder after her performance. Rookie point guard Courtney Vandersloot became the franchise's single-season assists leader with 124.
The Sky have one more game tonight, in Seattle.
Sky Remedy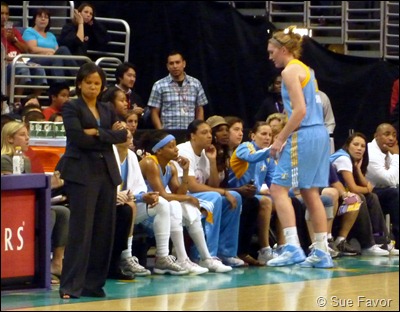 Sky head coach Pokey Chatman talked about what her team needs and what she would change for next year.
"We need to add quality veteran experience, we need leadership," she said. "We need someone who can take other players by the collar in the locker room before I get there."
Will Ticha Retire?
Saturday, veteran Sparks point guard Ticha Penicheiro asked on Twitter, "is this it?" Questioned later, she acknowledged that she is considering retirement.
"I am about to be 37, so it's something to think about," she said. "I need to take time off right now and rest and enjoy my family."
When will she make a decision?
"Probably January."