Sparks owner follows through on promise, Milton-Jones and Hoffman learn about their African heritage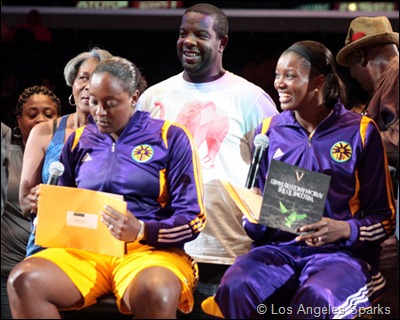 Hoffman and Milton-Jones with the information about their African ancestors
One thing that Los Angeles Sparks forwards DeLisha Milton-Jones and Ebony Hoffman didn't count on when they signed with the team is that it would help them find out their family's African heritage. But find out they did Friday night, thanks to a project spurred by new owner Paula Madison.
Madison, a former television executive, told Hoopfeed.com in July that she planned to have the Africa Channel conduct DNA testing on Sparks players to trace their family lineage. Milton-Jones and Hoffman each submitted an inner-cheek swab for the testing. The team announced the results after Friday's game in an informal ceremony.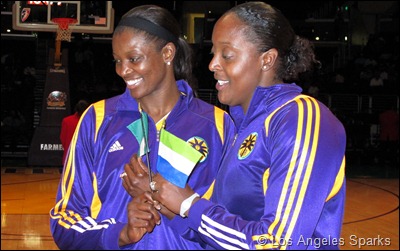 Milton-Jones hails from two distinct Nigerian tribes – the maternal tribe being known for its height. Hoffman's family comes from the Limba of Sierra Leone. When the results were announced, the ever-joking athletes made their happiness known. Milton-Jones got up off of her chair and ran out and back; Hoffman grabbed the microphone and said, "from the beach, baby!"
Later, both said that finding out their lineage was a gift they really appreciated.
"It's neat, and I'm excited to know that I have family in Nigeria that I have yet to meet," said Milton-Jones.
Hoffman's entire family stood with her on court as her results were read. She said they found out their heritage together.
"Everybody was really amazed to find out what exact tribe we are from," Hoffman said. "It's weird, though – what do you say and how do you feel?"
"I'm extremely grateful for the [team] owners we have."
Milton-Jones said the thing about Africa that has always impressed her is the way natives have a worldwide sense of community, which she called "mad love." For her, that made love began immediately after Friday's announcement.
"I was in Roscoe's afterwards and there were some Africans there who had just been at the game," Milton-Jones said. "They saw me and said, 'my sister, my sister!'"
Hoffman said she and her mother went out Saturday and each bought a Sierra Leonean flag. After Saturday night's game, which was the Sparks' last, Hoffman took the microphone and said her goodbyes. Then she added, "I'm from Sierra Leone!"
Both players have already begun researching their native tribes, and plan to visit Africa.
For Hoffman this also means creating a Sierra Leonean tie to the game she loves: "I want to bring basketball to my tribe."