WNBA Eastern Conference preview: Can it get any more even than this?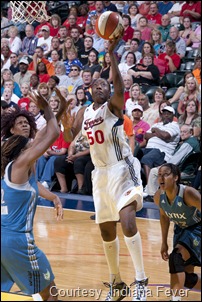 Indiana and New York. Connecticut and Atlanta. Two series kick off the WNBA's Eastern Conference playoff. The winner of the two regular season series between these teams? No one. Two 2-2 splits. Gee, what a surprise!
Normally, when you have a one-seed and four-seed matching up, you would expect an advantage for one team. With the Fever and the Liberty, however, they not only split the season series, each team won one game at home and one on the road. In each game the winning team scored between 81 and 86 points. The losing team finished with a total of 71 to 80 points. The total point differential for these four games? Eight points, three possessions. Now that is close!
The John Whisenant-led Liberty have some obvious similarities with his Monarchs teams that were so successful. Defense, physicality, and rebounding are key. The big difference, however, is that in Sacramento, Whisenant never had an individual capable of taking over and dominating a game the way Cappie Pondexter can. She needs to have all of her firepower working in this series, as Indiana will defend with tremendous effort and try to keep her from having an explosive performance.
Nicole Powell and Leilani Mitchell will have to hit the open three pointers and Essence Carson will need to continue to play her strong all-around game. To me, though, the key to this series will be how Kia Vaughn, Plenette Pierson, Kara Braxton and Quanitra Hollingsworth combine to rebound. Indiana likes to push people around inside, and in Tamika Catchings they have one of the most tenacious players to ever wear a WNBA uniform. New York must keep Indiana off the boards, and off the low box.
The Fever on the other hand, are going to look to do what they do best. Defend, force you into turnovers, and take advantage of your mistakes. After losing point guard Briann January to an ACL tear, the Fever defense became more intense, as Erin Phillips and Shannon Bobbitt put incredible pressure on the other team's guards. Indiana needs to rebound and Tammy Sutton-Brown and Jessica Davenport have been as good a post combination as there is in the league. Tangela Smith is more of a shooter than rebounder but Catchings and Katie Douglas are stronger than most small forwards and shooting guards in the league and cover for that "weakness."
The Fever come into the series on a bit of a down turn, and despite winning the East, they are appearing to be showing their age a bit, in the form of some nagging injuries. Most important of these is the sprained knee that kept Catchings from playing the last game of the regular season. Catchings at less than 100 percent will be a huge factor for the Fever's chances to advance. Catchings and Douglas both need to score for the Fever to be playing at peak efficiency, making the smothering defense even more difficult.
Connecticut and Atlanta also split their season series 2-2, but home court ruled here, with all four games going to the home team. Unlike the Fever-Liberty series though, these have been mostly high scoring affairs, with the winning team in the 90s three of the four games.
Connecticut handled Atlanta much the way NBA teams used to handle the Cleveland Cavaliers with LeBron James, let the star get theirs, we'll just win the game. Angel McCoughtry averaged almost 30 points per game versus the Sun, yet the Dream has only won two of those games.
The Sun boasts their own MVP candidate in Tina Charles, who broke her own record for most double-doubles in one season. Having seen Charles since her days at UConn, what is most impressive to me is the confidence in all facets of her game, including ball handling, passing and jump shooting, that has developed. She already had the post moves, rebounding and shot blocking skills. Asjha Jones' return to health has been key to the Sun's return to the playoffs, as she has added almost 14 points per game to the rotation.
The guard tandem of Renee Montgomery and Kara Lawson has played consistently well, and the remaining rotation players all execute their roles well; Kalana Greene defensively, Danielle McCray's three-point shooting, Tan White's defense, ball handling and shooting. They will need to stay out of foul trouble, and play their game. They must keep Atlanta's size off the boards, no small feat.
The Dream turned around a horrible 3-9 start and roll into the playoffs as the number three seed, and a deserving one. McCoughtry is clearly the focal point, and the Dream allow her to do pretty much what she wishes on the court, on both ends. She rarely disappoints, coming up with the big play more often than not.
Erika de Souza is one of the few posts that can match up pretty well with Charles, and 6-foot-7 Alison Bales can come in and lay on Charles even more. The health of Sancho Lyttle continues to be a daily question, and she will need to contain Jones for the Dream to be successful.
The backcourt has played well this year, and, similar to the Sun, the players know their roles. Lindsey Harding is a scoring point guard, but it will be up to Harding, Coco Miller and Armintie Price to defend Lawson and especially Montgomery. It should be noted that the two games the Sun won, Montgomery scored 19 and 21 points. It will be key for the Dream to defend the Sun perimeter players early so the Sun cannot open things for Charles and Jones inside.
Who will win these series? Good question. I just know it's going to be some great playoff basketball! Enjoy!