2011-12 WBB Big 12 Media Day – Live Thread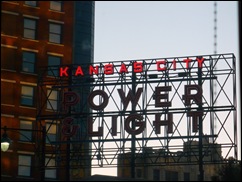 KANSAS CITY, Mo. — As the future of the Big 12 Conference remains precarious, women's basketball coaches and players convene at the Sprint Center in Kansas City to talk about their expectations for the upcoming season.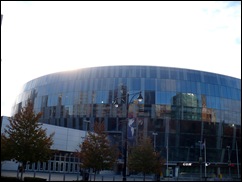 Morning Schedule
Student Roundtable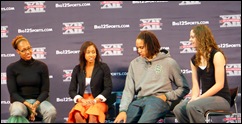 Brittney Griner (Baylor), Jalana Childs (Kansas State), Hallie Christofferson (Iowa State), Tiffany Bias (Oklahoma State), Ashley Gayle (Texas)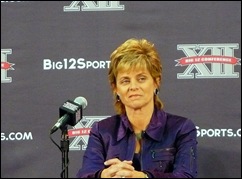 Coach Press Conferences: Kim Mulkey (Baylor), Deb Patterson (Kansas State), Kurt Budke (Oklahoma State), Gail Goestekors (Texas). Iowa State head coach Bill Fennelly could not attend due to health issues.
Hot topic: Conference realignment
During today's women's basketball Big 12 Media Day the subject of conference realignment dominated much of the press conferences and chatter among coaches and the media in the morning session. Nebraska now competes in the Big Ten and Colorado moved to the Pac-12. Texas A&M will become a part of the Southeastern Conference next year and there are talks that Missouri may join the the SEC as well. [More]
Texas post player Cokie Reed back from injury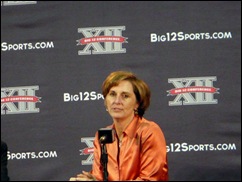 Texas coach Gail Goestenkors has 6-5 red shirt sophomore Cokie Reed back in the lineup after the center missed a year due to injury. Her team had the opportunity to play overseas with Reed putting in key minutes to giving Goestenkors the opportunity to assess the post player's condition.
Her take:
She's special. That's all I can tell you is she's special. I know many of you saw her as a freshman making the Big 12 All-Freshman team, but she's so much better than she was two years ago. There's no comparison.

She's going to demand a double team. When we played overseas — we had the luxury of playing over in Europe this summer, so it was good for us as a coaching staff to finally get to see her back on the court.

And the opposing teams called a timeout after about six minutes of every game, because she could not be stopped. So they would have to double team her, which now opens up things for Ashley Gayle and some of the our post players and for our guards to get some great looks as well. So she really changes the game for us.
Round-robin will be tough
Before the Big 12 lost Nebraska and Colorado, teams from different regions, north and south, only played each other once during the regular season. This year with ten teams the league implemented a round-robin format and teams will face each other twice regardless of region.
Kansas State head coach Deb Patterson on the format:
I think the league will have a very unique and different feeling to it, just because of the change in the schedule. I think it will absolutely, unequivocally, establish us as the most competitive and number one competitive conference in the nation.

I mean, before you even play a game, you look at the matchups from top to bottom that will occur this season, and it's mindboggling.

So to me it's just elevated the quality, the intensity, the competitiveness. I think we'll also see interesting play when it comes time for Big 12 tournament play, because of the rigors of the double round-robin, and then reigniting yourself again during that Big 12 Conference and then transitioning into the NCAA Tournament.

I think it will be an interesting dynamic from inside and out to observe this season.
The Griner Effect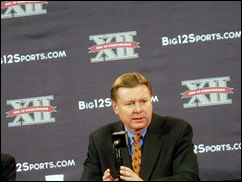 Oklahoma State head coach Kurt Budke addressed the issue of facing the league's most dominant player, Baylor's Brittney Griner. The 6-8 center's influence changed how teams recruit and prepare for games.
Budke:
I think the whole league went out and tried to find somebody that one could defend her and slow her down a little bit.

We were very fortunate in finding a young lady named Vicky McIntyre who had a great freshman year for us last year and who really — you talk about getting excited to play someone, she really gets excited to play Brittney Griner when we do play Baylor.

But she changed the game. She changed how you attack Baylor, because, you know, offensive rebounding against Baylor and there she is and you don't get put-backs against them.

And she pretty much takes away the paint. So a lot of times — and I've seen it on tape, and we've done the same things — you game plan different for Baylor than you do other people. If you're really truly an inside-out team, you might have to look at another way when you play them.
Afternoon Schedule
The afternoon schedule featured another student panel and the remaining coaches meeting the media.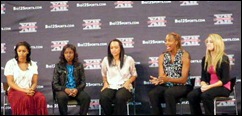 Sydney Carter (Texas A&M), Carolyn Davis (Kansas), Kyley Simmons (Missouri), Casey Morris (Texas Tech), Aaryn Ellenberg (Oklahoma).
Defending a championship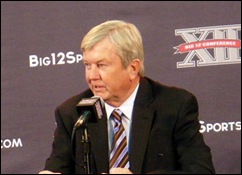 Just a few weeks ago, the defending national champions Texas A&M visited the White House and received accolades from President Barack Obama. Now the Aggies turn their attention to defending their title. In his opening remarks he talked about this task.
Blair:
We're looking forward to defending the national championship. You don't talk about winning another one until you defend it the way a champion should.

And I think that's our goal this year. Our kids are practicing hard. We're relatively healthy right now.

But the most important thing, I haven't defended a whole lot of national championships before. But at the same time you feel good about yourself, you feel good about your accomplishments, but soon as you sit back and reflect on it, somebody's going to kick you in the butt and pass you by.
Building a program amidst conference chaos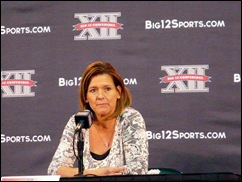 Missouri coach Robin Pingeton faces the toughest circumstances in the league. Her team is ranked last in the conference preseason poll and rumors about the future of the league has Mizzou moving to the SEC.
Pingeton talked about the challenge of staying focused in the frenzy of conference changes:
We've continued to put our blinders on and stay focused on building our team and continuing to challenge our players, and that's really where we're at right now with everything.

I think we're all anxious to find out what direction all this conference realignment goes, but I can tell you this: I know Chancellor Deaton and our athletic director, Mike Alden, have worked tirelessly at trying to work through all the layers of what's in place. And I believe with all my heart they're going to put us in a position to be successful as a university.
Kansas wants to keep rivalry with Missouri
Kansas coach Bonnie Henrickson also addressed realignment issues specifically the rivalry between the Jayhawks and the Tigers.
I think the rivalry belongs in the Big 12. I would say that. And I don't have a problem saying that. Where we go and Robin's not making the decision and I'm not making the decision, but we are — even though just her being there a year, and her and I knew each other being at Illinois State prior to being at Missouri, I think it's been good for us. It's been good for them. Moving forward we'd like for it to be what it is.

But like I said, and Gary said it right, it's about TV and football and ego. And I'm not sure ego is third.
Texas Tech Kierra Mallard on the rise?
During her time in front of the media, Kristy Curry was effusive in her accolades about senior post player Kierra Mallard. Curry expressed disappointment that Mallard was not recognized in the preseason honors.
I'm telling you what, folks, there's not anybody that's working any harder at Texas Tech than Kierra right now. As she works, that's going to make our team an awful lot better. So her consistency day in and day out in practice and off the floor, her maturity level. I'm not sure I've seen anybody mature so much like Kierra has, and I'm really proud of her.

I think she's going to have a breakout year. It's intriguing to me she's not even mentioned as honorable mention, which is just astounding to me. It's absolutely a joke. And I think she's going to prove a point this year with that.
Maintaining excellence
Oklahoma coach Sherri Coale, who built a program into a perennial power, was asked about the longevity of success and performing at a high level year after year in a tough league.
You know, the crazy thing about it is the stiff competition is actually one of the things that allows us to maintain that high level of play.

That little saying as the water rises so do the boats. You compete. You compete and great players want to come and they want to be a part of this conference where we compete against one another.

So I think success breeds success and we all continue to draw great athletes who want to be a part of this environment.
Your John Hancock please
Each coach in attendance signed Big 12 basketballs.