Dishin & Swishin October 20, 2011 Podcast: Twice the Pleasure of Hearing From Texas A&M's Gary Blair
[display_podcast]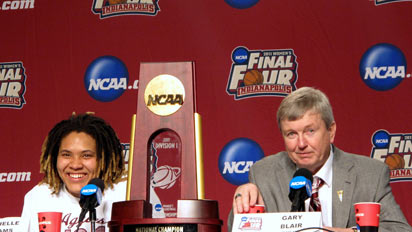 The WNBA season is over and it is time for women's basketball fans throughout the country to change their focus to that wonderful, wild season of college basketball. I know I cannot wait for the season to start, and I get so psyched for the excitement and atmosphere of the college games.
Everyone has high hopes at this time of the year and everyone is on equal footing. Sure, teams like Connecticut, Tennessee and Stanford will rise and be there come tournament time in April, but it is nice when you get some "new blood" into the mix, as we did last season. I don't think many people predicted a Texas A&M versus Notre Dame final, and it drew higher ratings than the prior season. On that note, I think it's only fitting to begin Dishin & Swishin's NCAA coverage with where we finished, with Texas A&M, and head coach Gary Blair.
If you didn't get enough of the Big 12 with Hoopfeed's coverage of yesterday's Big 12 Media Day, today's podcast gives you not one, but two one-on-one conversations I had with Gary Blair. I've actually had coach Blair on the show three times, including an early season interview from November 2010.
We kick off today's podcast with the interview I had with Blair in April 2011, right after the Aggies completed their improbable run to the NCAA championship, and their two star seniors, Danielle Adams and Sydney Colson were drafted by the WNBA. It is a fun interview to just sit back and enjoy, as the veteran coach who started out as an assistant at Louisiana Tech in 1980 revels in his first national championship and the success his program has attained.
Following that, I talked to Blair this week, prior to the media day frenzy. It was great to hear the excitement of a new season still resonates in his voice, as he readies his team for new challenges and a difficult schedule that includes pre-season favorite Baylor and a visit for the first time to Connecticut. Still, hanging over the season for Texas A&M is the fact that this will be their final season in the Big 12 Conference, something that clearly troubles and saddens Blair. We discussed this in depth, including his prior experience in the Southeastern Conference as head coach at Arkansas, and how his goals will have to change. Who will step up and lead the Aggies this year? What will be the biggest challenges and what are the expectations? Give it a lesson, and hear what the coach has to say.
Don't forget, you can subscribe to the podcasts on iTunes, and you can follow both Hoopfeed and myself on Twitter, with our names @hoopfeed and @DishNSwish. If there is any coach or school you'd like to hear about or from on a future podcast, be sure to let us know! I hope you enjoy the podcast.