Dishin & Swishin October 27, 2011 Podcast: Tara VanDerveer preparing a new batch of players for success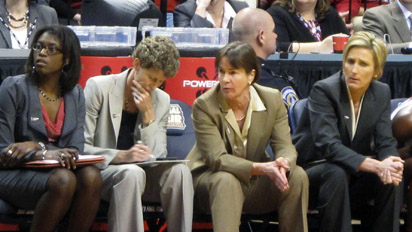 [display_podcast]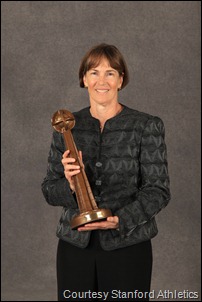 A while back I had Teresa Edwards as a guest on Dishin & Swishin. We discussed the 1996 Olympic women's basketball team, the one that most consider the driving force behind the professional leagues that started the next year. I eventually asked her about the coaching of Tara VanDerveer, how she worked with such a talented group of players and what she taught them. Without hesitating she replied very simply—that as a coach VanDerveer took a bunch of girls and made them women.
That is what Stanford head coach VanDerveer is all about and has been doing while winning many basketball games, 826 to be exact, over thirty-two seasons, and two national championships. VanDerveer is part coach, part teacher, part administrator, and part caregiver to the players that enter her program. The young ladies have tremendous academic pressures on them in addition to the pressures of being an athlete. Coach knows this, respects it, and challenges her players to succeed in not just basketball, but in the game of life.
The last four years have produced four Final Four appearances, but gone are those VanDerveer depended on most, Kayla Pederson and Jeanette Pohlen. In their place comes an unusually large class of six freshmen, including heralded guard Amber Orrange. Of course the freshmen will not be expected to do the heavy lifting. That will be done by the projected number one pick in the next WNBA draft, Nneka Ogwumike. A tremendously talented forward, Ogwumike will be paired once again with her younger sister, Chiney, in a spirited game of pick which Ogwumike sister you wish to beat you.
For Stanford to succeed though, they will need continued growth and development in the post by centers Sarah Boothe and Joslyn Tinkle. The duo will need to provide strength on both ends of the court as well as do the little things that VanDerveer requires (screening, boxing out, etc.).
The Pac 12 conference, as it is now called, will still be Stanford's domain, but there are some programs changing and moving things around. New coaches at UCLA, Washington and Cal will all be gunning for the Cardinal and USC is under the helm of NBA legend Michael Cooper. But, in the near future, it is still the world of the Cardinal. They may be re-tooling but they are not rebuilding.
On this week's podcast, I talked to VanDerveer. We discussed the Hall of Fame, losing her cornerstone players and adding all the freshmen. VanDerveer has opinions on the changing conference landscape and reminisces about 1996 and also her coaching tree. Still, you can tell that she would rather deflect than accept praise.
Coming off a year where you are inducted into the Naismith Hall of Fame, make it to the Final four, and receive honor after honor from your peers, it will be tough to follow. If anyone is ready for the challenge it is VanDerveer.
I hope you enjoy the podcast, and don't forget you can find me on twitter at @DishNSwish, and you can subscribe to the podcasts on itunes.