Lynx success makes die-hard fans "verklempt" as many take first-time trips to an away game during the Finals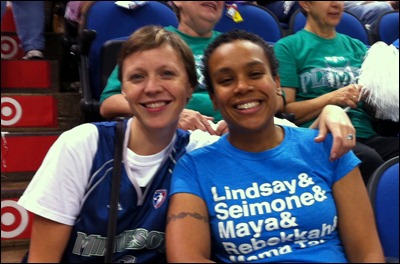 Lynx fan Erica Mauter (right) with her wife Missy at game two.
MINNEAPOLIS – Erica Mauter is among the Minnesota Lynx faithful who traveled to Atlanta to see her team attempt to sweep the Atlanta Dream in the WNBA Finals. She arrived in Georgia's capital early this morning and instead of staying with good friends of hers in the city decided to book a hotel room close to Philips Arena because "my time here is all about the game."
Mauter, a chemical engineer who graduated from the University of Michigan and is active in community service groups in Minneapolis, is a longtime season ticketholder of the Lynx. She, along with friends who are also dedicated fans, arrived early to games one and two then stayed out late, after saying hello to players, to head over to Hubert's, a sports bar in the Target Center to dissect the night's match with fellow basketball heads.
After 12 summers of disappointments with just two short postseason appearances , the Lynx reached the conference finals for the first time in franchise history this year. Now that the team is in the best-of-five championship title series, die-hard fans like Mauter who have stayed loyal to the team over the years are making first-time trips to an away game to watch their beloved Lynx battle.
Confidence in Reeve
When asked if she was excited that the Lynx named Cheryl Reeve head coach before the beginning of the 2010 season in December 2009, her response was quick.
"Oh yeah, definitely," she said. "I had been paying attention to Detroit, my hometown team and knew her background as an assistant for the Shock."
Even though the Lynx missed the playoffs in Reeve's first year at the helm, Mauter said she and other season ticketholders felt confident that the team was on the upswing and would be a force to be reckoned with this year.
"I just felt confidence in her," said Mauter. And after listening to the former Detroit assistant talk, said she and other fans were appreciative that Reeve did not use a lot of "coachspeak" to convey her message about her vision for the Lynx and the weaknesses of the team.
"There were so many other things that went wrong last year before I could even think about the coaching," said Mauter. "Given the problems we had with injuries and other stuff, I didn't feel like she was given a chance to show what she really wanted or could do as a coach."
And then the Lynx won the Maya Moore sweepstakes. The 2011 WNBA Rookie of the Year has not disappointed in her first season. She averaged 13.2 points per game and 4.2 rebounds during the regular season and with the exception of getting into foul trouble during game two of the Finals series, her output has been just as impressive in the postseason.
Now that the Lynx are playing for the 2011 title, it sometimes feels overwhelming for some Lynx fans.
"When I step back to think about it, in just those terms, and not in the middle of a game, I get verklempt. It's like a dream come true. I would be very proud of everything the team has accomplished this year because they have blown away every other season they've had, far and away. But to come this far and not finish it would be kind of sad, but I'm going to cry either way. I'm totally going to cry."
Away Game First-timer
What made Mauter decide to travel to Atlanta?
"This is the first. I've never traveled to an away game for a team that I follow ever so this is definitely a first for me," she said. "I've already made the investment as a season ticketholder to commit to supporting the team and it was feasible for me to make that trip. So I said 'I'm going to take advantage of it.' It helps that it's an easy trip and I know people down there to visit and stuff so it's like 'OK, let's go.'"
While the fans have been patient over the years, Mauter says they are also appreciative of the fortitude of Lynx long timers Seimone Augustus, Candice Wiggins and Charde Houston. While Augustus is the team's leading scorer, Wiggins and Houston have taken on roles as reserves. Houston was a WNBA All-Star in 2009 and Wiggins has had bad luck with injuries.
"I think they have all been really mature about 'here's what coach asked me to do, and I'm going to do it for the good of the team,'" said Mauter about the trio. "This is what they say and I'm inclined to believe them: 'If we win a championship, it doesn't matter how we got there. We did what was asked of us and here we are."
Mauter is also appreciative of how the players conduct themselves off the court, interacting with fans and becoming involved in the community.
"If you get attached to the Vikings, it's not because you said 'hi" to the team," she said. "It's not because you connect with them personally. You might think you do. You might think that you have a connection with these players."
She contrasts that with the connections fans have with WNBA players.
"But what I love about the WNBA, especially as a season ticketholder, is that you do have incredible access and they are so very giving of their time, so it feels more personal to me. I feel very invested in their success because I've gotten a chance to talk to all of them and they are all super nice and very smart and really good at what they do. I want them to succeed the way I want my friends and family to be successful in things."