Preseason polls give preview of 2012-12 women's basketball landscape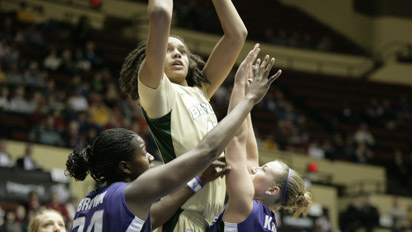 Complete list of preseason polls
In the past several weeks, conference preseason awards have given die-hard women's basketball fans a preview of what teams are predicted to dominate their respective leagues. The Great West, Northeast, Â Southland and West Coast conferences have not yet released their preseason standings.
In the Atlantic Coast Conference, Miami sits atop the preseason rankings for the first time since it joined the conference in 2004. Traditional ACC powerhouse Duke came in second, Maryland was third while North Carolina showed up at sixth and North Carolina State placed seventh.
In the Big 12, last year's conference champion is ranked No. 1 while national champion Texas A&M is second. Texas is third, Oklahoma fourth while Iowa State takes fifth. Baylor junior and dominating center Brittney Griner is once again the choice for preseason player of the year.
Last year's opponent against Texas A&M in the national title game Notre Dame has the top spot in the Big East. Final Four participant Connecticut is second while Louisville is in third. Rutgers is in fourth and Georgetown rounds out the top five.
Penn State takes the preseason lead in the Big Ten, topping Ohio State, last year's conference champion. Two players share the preseason player of the year honors in the conference: OSU senior Samantha Prahalis and Penn State junior Alex Bentley.
Delaware continues its recent dominance in the Colonial Athletic Conference, sitting on top of the preseason poll. Blue Hens junior Elena Delle Donne is the league's preseason player of the year. Delaware returns five starters from last year's 20-14 team.
In Conference USA, Memphis leads the pack with senior guard Brittany Carter taking the preseason player of the year honor. Carter missed five conference games last season with a stress fracture but managed to average a team-high 13.8 points per game. Head coach Melissa McFerrin guided her team to its 18th 20-win season (21-13) in 2010-11. The Tigers return four starters.
Among the Ivies, last year's conference leader Princeton is again on top. Tigers star Niveen Rasheed is back in action this season for Princeton after recovering from a torn ACL.
In the Southeastern Conference, Tennessee once again is ranked first in the preseason polls. The team has six seniors, returning the majority of the squad despite losing guards Angie Bjorklund and Sydney Smallbone plus center Kelley Cain. Lady Vols senior Shekinna Stricklen was the overwhelming choice in the media poll for SEC Women's Basketball Player of the Year.
On the west coast in the Pac-12 it is no surprise that Stanford leads for the 11th year in a row. The 2010-11 NCAA Final Four team and last year's conference champion is packed with sisters Nneka and Chiney Ogumwike returning. Recent Naismith Hall of Fame inductee Tara VanDerveer, who is entering her 26th year, looks to take the Cardinal back to the Final Four.

Conference
Preseason Pick
Preason
Player of the Year
2011 Conference
Tournament Champion
Atlantic Coast
Miami
Shenise Johnson, Sr., G, Miami
Duke
America East
UMBC
All-Conference First Team
Unanimous Pick: Chantell Alford, Jr., G, Boston
Hartford
Atlantic 10
Tie: Dayton, Temple
All-Conference First Team
Xavier
Atlantic Sun
Florida Gulf Coast
Victoria McGowan, Jr., G, Steston
Stetson
Big 12
Baylor
Brittney Griner, Jr., C, Baylor
Baylor
Big East
Notre Dame
Skylar Diggins, Jr. G, Notre Dame
Connecticut
Big Sky

Poll

Portland State
N/A
Montana
Big South
Liberty
Avery Warley, R-Sr., C, Liberty
Gardner-Webb
Big Ten
Penn State
Tie: Samantha Prahalis, Sr., G, Ohio State || Alex Bentley, Jr., G, Penn State
Ohio State
Big West
Cal Poly
All-Conference Team
UC Davis
Colonial
Delaware
Elena Delle Donne, Jr., G/F, Delaware
James Madison
Conference USA
Memphis
Brittany Carter, Sr., G, Memphis
UCF
Great West

Poll

TBA
TBA
Chicago State
Horizon
Green Bay
Brandi Brown, Jr., F, Youngstown State
Green Bay
Ivy
Princeton
N/A
Princeton*
Metro Atlantic
Marist
Corielle Yarde, Sr., G, Marist
Marist
Mid-American
East Division: Bowling Green
West Division: Toledo
All-Mac Team
Bowling Green
Mid-Eastern
Hampton
Saadia Doyle, Jr., F, Howard
Hampton
Missouri Valley

Poll

Missouri State
Casey Garrison, Sr., G, Missouri State
Northern Iowa
Mountain West

Poll

TCU
Kim Mestdagh, Sr., G/F, Colorado State
Utah
Northeast

Poll

TBA
TBA
Saint Francis (PA)
Ohio Valley
Tennessee Tech
Tacarra Hayes, Sr., G, Tennessee Tech
Tennessee Martin
Pacific-12
Stanford
N/A
Stanford
Patriot
American
Jade Geif, Soph., F, Navy
Navy
Southeastern
Tennessee
Shekinna Stricklen, Sr., G/F, Tennessee
Tennessee
Southern
Chattanooga
Sophia Alexandravicius, Soph., F, Davidson
Samford
Southland

Poll

TBA
TBA
McNeese State
SWAC
Tie: Southern, Prairie View A&M
N/A, First Team Selections
Prairie View A&M
Summit
Oral Roberts
Kevi Luper, Jr., G, Oral Roberts
South Dakota State
Sun Belt
East Division: Denver
West Division: Middle Tennessee
Preseason Co-Players of the Year
Ebony Rowe, Soph., F, Middle Tennessee
Kaetlyn Murdoch, Sr., F, Denver
Arkansas at Little Rock
West Coast

Poll

TBA
TBA
Gonzaga
Western Athletic
Louisiana Tech
Ashlee Brown, Sr., F, Utah State
Louisiana Tech
*Regular season champion. The Ivy League does not have a tournament.