Seimone Augustus propels her team to victory, works past fatigue to give Lynx 2-0 series lead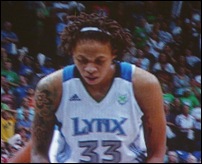 MINNEAPOLIS – Even with starting center Erika de Souza back in the lineup, the Atlanta Dream did not have enough stamina and firepower down the stretch to overcome a tenacious Minnesota Lynx in Game 2 of the WNBA Finals Wednesday night. Led by Seimone Augustus who had 36 points, the Lynx defeated the Dream 101-95 in front of a crowd 15,124, the third largest in Lynx history, trailing the crowd that attended Game One Sunday night.
Like on Sunday, the Lynx trailed for most of the game. However, they came to life even later in the matchup Wednesday night and overcame a larger deficit as both teams pushed past obvious fatigue in the last quarter.
"I was very exhausted," said Augustus who also pulled down eight rebounds, "but nothing was going to stop us from getting this win, I knew my teammates would come in and do everything they could, and if I had to do that, so be it."
Dream head coach Marynell Meadors felt her team played hard but just could not overcome the Lynx.
"I thought the Atlanta team fought a hard game," said Meadors. "the game was extremely long, 2:26 which tells me there was a lot of stoppage. Other than that I felt like we played hard enough to win the game; we just didn't win it."
She also praised Augustus.
"If she gets loose and gets in a rhythm," said Meadors. "it's very hard to stop her, she is such a great scorer."
Lynx head coach Cheryl Reeve said it was Augustus' best effort.
"I've not seen the type of performance that Seimone Augustus showed us tonight," said Reeve, "…the best individual performance I've seen in the playoffs. She's a warrior, she is hurt, and she's tough."
While many players including key members of the Lynx squad racked up fouls, Augustus managed to get to the free throw line often, going 11 for 14. Teammate Maya Moore had three personal fouls before the first half ended and entered the fourth quarter with five. Coaches and players voiced their exasperation at the officiating.
"Well, you know, short of getting fined for anything, there were a lot of free-throws taken in that game, 46 by Minnesota, 32 by us," said Meadors. "You know, I just really don't understand some of the things that were being called. Not to say that they were wrong, but there were a lot of things that I disagreed with. That's part of the game."
In the first quarter, the teams traded baskets staying within four points of each other until the last 50 seconds. A pair of free throws by the Dream's Lindsey Harding, followed by a jump shot from the starting point guard gave Atlanta a six point lead to end the period. Atlanta forward Angel McCoughtry, on her way to prolific evening, accumulated 12 points in the first quarter.
In the second quarter, the Dream managed to earn a 10-point lead after a jumper from McCoughtry late in the period.
The Lynx's woes continued as the teams went into the break. The Dream led 58-50 at the end of the second half. McCoughtry had 24 points while Augustus led the Lynx with 19.
During the third quarter, while Minnesota managed to close the gap, mostly with baskets from veteran center Taj McWilliams-Franklin who had six in that period, they still went into the fourth quarter down by five.
In addition to the output of Augustus, bench players for the Lynx stepped up late in the game with key shots. Monica Wright and Jessica Adair both provided a spark to help Minnesota manage to grab the lead from the Dream even as McCoughtry continued to light it up for her team. Adair finished with 13 while Wright added 6. Starters with big contributions for the Lynx besides Augustus include point guard Lindsay Whalen who had 13 points and McWilliams-Franklin with 10.
Reeve said Adair "rebounded, defended with confidence."
She praised her team's determined effort even with a second half deficit.
"One of the things that we told them before the game is that we wanted to be tough, determined and play together," she said, "and we were tough. We were really tough, and I think we were determined. We wanted to make sure we got out of here with a win. Our fans were great, and they appreciate the heck out of that….I enjoyed being part of that game and watching our players fight through that and come out on the plus side."
McCoughtry had a game high 38, breaking her Finals record from last year's series versus Seattle and setting a new league Finals record. Lindsey Harding scored 16, Iziane Castro Marques had 14 and Sancho Lyttle helped out with 13. While de Souza only had eight points, she did pull down 10 rebounds.
"I didn't know it was a record but I know that Angel played very well tonight," said Meadors. "she shot the ball well. We were able to get her in good positions where she could score. She is just a fantastic player. It's difficult to stop her. I thought she played extremely well from the beginning to the end."
For McCoughtry, the points meant little without  victory.
"It's just 38 points. I don't care about that," she said. "I want to win a ring."
The Dream head home two games down in the best-of-five series. Game 3 is Friday night in Atlanta.
Meadors expressed confidence that her team would be prepared to host the Lynx.
"They've got to come to Atlanta for two games and we will be ready for them."