USA Basketball: Head coach Geno Auriemma's view of the team during their European tour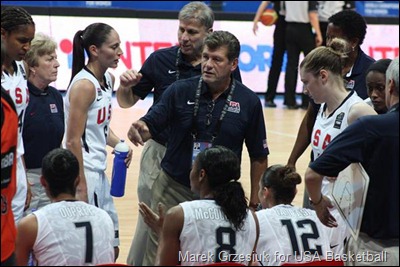 While the WNBA season was heading toward its completion with the playoffs, available and healthy members of the USA Basketball Senior National Team were in Europe, participating in a training camp and tour, playing different local teams, bonding and getting in valuable time as a group.
Coach Geno Auriemma had a challenge with this camp, as the playoffs and injuries led to many key players from the USA select pool not being available including stars Sue Bird, Diana Taurasi, Sylvia Fowles, Candace Parker, Angel McCoughtry, Seimone Augustus, Lindsay Whalen and more. The group that was able to play is diverse in talents and experience, if short on numbers. Veterans like Swin Cash and the returning Cappie Pondexter were joined by youngsters like Danielle Robinson and Brittney Griner.
The results were mixed. Due to the small numbers available, Auriemma, a coach who "hates losing more than anyone else I've ever come across," according to USA Basketball's Caroline Williams, was forced to have his team play more zone defense than he would normally. They lost twice, first to Spanish team Ros Casares Valencia, which features talent such as Ann Wauters and Jana Vesela, 80-76. They also lost to USK Prague in the Czech Republic, 83-77. After that first defeat against the Spanish power Ros Casares, Caroline Williams was able to ask coach Auriemma a few questions for me about the European tour.
Hoopfeed: Did you have any particular goals, or anything in particular you wanted to focus on during this European camp?
GA: Not once we found out who wasn't going to be here because of injuries and playoffs or whatever. Once we knew that, it became more of a let's evaluate these players that have been in our program and see where they stack up around some of these other players we already know, that have been to that level and succeeded at that level, so let's see where we are now. So, you want wins, obviously we want to win every game, but at the same time we want to get a pretty good understanding and a pretty good feel for what these kids could do.
Hoopfeed: What kind of difficulties do you face when you don't have those players that are injured or in the finals for a camp like this?
GA: Well, you're talking about some of the best players in the world, and there's a pretty big drop between them and whoever else we would put out there. It was just an unfortunate set of circumstances that happened, but obviously you are not the same team. Again, you are giving them an opportunity that maybe they wouldn't have had if those others had been here. If all of those players had been here, a lot of these kids either wouldn't have been here or gotten many minutes to show what they can do. So there's good and bad.
Hoopfeed: A lot of team building activities seemed to be planned, how important is it for a team to bond on and off the court?
GA: You don't have much time to do it, so it has to happen quickly, and I think the bonding part off the floor, that's easy. These kids all know each other, they've grown up together to some extent, they all respect each other. So that part is not hard. The hard part is playing together. Our guard situation was such that the most experienced player out there was Cappie, and she's not really a point guard. So that kind of throws off the on the court chemistry. Off the court though, that's not a problem, that's really good.
Hoopfeed: What are your impressions after coaching for the first time Brittney Griner and Sophia Young?
GA: Obviously coming in you don't know how they are going to be, but I'm finding both of them great to be around, first of all, as people I've really enjoyed them. I think the other things, Sophia has tried really, really hard to get to this point, and get an opportunity to play [with USA Basketball]. I like the fact that she knows exactly where her shots are going to come from and she tries really hard to get those shots. Brittney, is a unique individual. You just don't see anybody like that. You know you've got something that no one in the world has, at both ends of the floor. She just has to be in this situation more often. I've enjoyed every minute of it, being around both of them, both as people and as players.
Hoopfeed: How was it having Cappie Pondexter back, and how glad were you to see that she was able to participate in this camp?
GA: When you talk about Renee Montgomery and Danielle Robinson, you don't really have experienced international players, and Cappie is, so, for us to get someone like that obviously is a great, great boost for the young players and for us as a team. Everybody knows, we know what Cappie can do, how competitive she is, how hard she works, and I think it's been good for the younger players to see up close the little things she does that don't show up in the box score sometimes.
Hoopfeed: Given the talent in the post, with Tina Charles, Sylvia Fowles, Candace Parker, and now Brittney Griner, how difficult is it going to be for the committee to choose among the post players?
GA: It's going to be a very difficult decision. Some players have talents that really complement each other and other players, and some have unique talents that we have to figure out where they fit in. Certainly, when you talk about the players you just mentioned, they all add an awful lot, but you can only take twelve. It would be great if you could rotate them and take everybody. I think the committee is going to have a very difficult choice, no matter who gets picked. Some great player is going to be left off, but that's probably understandable, because that's the level USA Basketball is at, you go from maybe not a lot of post players, to now you have quite a few. Injuries are an issue right now, you hope everybody's healthy come the London Olympics, and that depth is going to be important because you never know who is going to be available and who is not. It's not a decision that's going to be taken lightly that's for sure.
---
USA Basketball's tour of Europe ended October 9 in Sopron, Hungary, after stops at Monte di Procida in Italy, Valencia in Spain, and Prague in the Czech Republic. In their final game, they beat UNIQA-Euroleasing Sopron, 73-63. They were led by Cash and Pondexter who had 14 points each.
Auriemma's UConn Huskies kick off their regular season on November 13 at home against Holy Cross.