Baylor solidifies its No. 1 spot in win over Notre Dame, Virginia takes down Tennessee and other DI news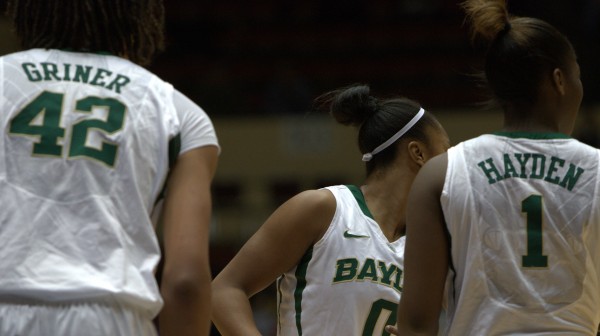 No. 1 Baylor reigned in an early season showdown between the top teams in the nation Sunday afternoon beating No. 1 Notre Dame 94-81 in the Preseason WNIT Championship Game. The Lady Bears overcame the hot shooting of Natalie Novosel and Skylar Diggins and defeated the Fighting Irish in front of a crowd of 9, 477 in Waco.
After Notre Dame jumped to a4-0 lead, Baylor center Brittney Griner rattled off Baylor's first six points and the teams were tied at the 15:50 6-6. Notre Dame's Devereaux Peters scored next and her team kept their lead until the 12:14 mark when a jumper by Kimetria Hayden put Baylor up by 1, 15-14. Baylor did not trail for the rest of the game. At the half Baylor led 47-36.
Notre Dame came out of halftime guns a blazing in the first several minutes and looked as if they were ready to take over the game. After a two free throws by Diggins, the Fighting Irish were within one, 56-55. But a quick layup by Brooklyn Pope began a Baylor run and they never looked back and earned a 19-point lead, 90-71 at 1:48 on a free throw from Odyssey Sims.
Sims, the regular starting point guard for Baylor, was on the bench at tipoff but entered the game within minutes.
Griner finished with 32 points and 14 while Sims had 25 points, six assists and six steals. Destiny Williams also had a double-double with 15 points and 13 rebounds.
Baylor head coach Kim Mulkey indicated her satisfaction with the balanced scoring effort of her squad.
"We are not just a one-player team," said Mulkey. "When you look down the lineup, we are pretty darn good. Everything we do can flow through Brittney Griner in the type of offense we run, but all of these other kids can play. Who are you going to stop, Destiny Williams? Here comes Brooklyn (Pope), then Terran gives you eight or nine and Kimetria Hayden didn't have a great game, really. We have a little bit of help around the big girl and we need to keep it."
For Notre Dame, Natalie Novosel scored a career-high 28 points while Diggins, had 27 and Kayla McBride finished with 11.
The game marked only the second contest between the two teams. In their last matchup December 1, 2010 in Waco, Baylor beat the Fighting Irish 76-65 with five Lady Bears scoring in double digits.
Baylor is now 4-0 on the season and the Irish 3-1. Baylor faces Yale at home on Tuesday. Notre Dame takes on No. 23 USC back in South Bend on Friday.
Virginia takes down No. 3 Tennessee in overtime
On the east coast, No. 3 Tennessee lost to unranked Virginia in overtime 69-64. In only their fourth game under new head coach Joanna Boyle, the Cavaliers stunned the Lady Vols with a stifling tight defense. Chelsea Shine led Virginia with 18 points, nine rebounds and two assists.
Other Top 25 Scores
No. 6 Texas A&M 93, Mississippi State 47
No. 8 Duke 80, Western Kentucky 54
No. 9 Louisville 62, Xavier 44
No. 11 Penn State 55, South Carolina 50
No. 12 Georgia 67, No. 23 USC 60
No. 16 Purdue 65, Tennessee-Martin 39
No. 18 DePaul 90, Hawaii 65