Dishin & Swishin November 24, 2011 Podcast: A Special Thanksgiving Chat with Tamika Catchings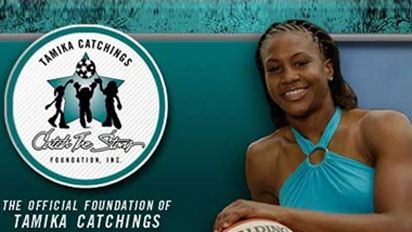 [display_podcast]
I love Thanksgiving! I make no bones about it and its not just because I enjoy the food (which if you've seen me you know is true) or the family (always nice to see) or the football (hey, a meaningful Lions game this year!). Last year over at Swish Appeal, I started a Dishin & Swishin tradition. You see, every week for the remainder of the year I get to talk to basketball with the greatest players, coaches, administrators and journalists in the women's game, but on Thanksgiving, I like to pick out one or more of these incredible athletes, and not focus on basketball very much at all.
It is incredible the amount of time and effort the women of the WNBA put into charitable endeavors, and giving back to their communities. It is a thrill and privilege for me to share a small portion of this with you, and hopefully give you an understanding that these women, dedicated, hard working, heroes to many for their feats on the court, take their off the court responsibilities just as seriously, if not more so.
The woman I refer to as the WNBA's Queen of Giving, is the Indiana Fever's Tamika Catchings. Her Catch the Stars Foundation is the preeminent organization run by a WNBA player and a target for all others to strive for. Catchings gives and then gives some more of her time and seemingly limitless energy to not only her own foundation but other charitable endeavors as well. A six-time WNBA. Community Assist award winner, Catchings is also on the Board of Directors of Indiana Special Olympics, mentors a little sister in Big Brothers, Big Sisters, and is a frequent WNBA Cares participant.
This past week, her schedule, in addition to a little thing like getting therapy and rehabbing her injuries, included:
November 17th: Chapel speaker at John Brown University to the school's women athletic teams
November 19th: 10th Anniversary Catch the Stars Fitness clinic
November 21st: Help feed Thanksgiving dinner to more than 600 people at Conseco Fieldhouse
November 22nd: Still find time to talk to old friend David for Dishin & Swishin
If you have ever seen Tamika Catchings around a child, you'd know that this is not a façade. She truly cares about every child she meets. That is how I met Tamika in the first place. My daughter was a basketball fan that sought out her autograph at a Connecticut Sun game, which was happily provided. My family then ran into her in New Orleans, when UConn was getting ready to meet Tennessee for the national championship and she and my daughter exchanged good wishes. The next day, while sitting in the airport, Tamika Catchings came walking up to my daughter to give her a high five. She then asked my daughter if she wanted to meet some of her friends and took her over to introduce her to Lisa Leslie, Dawn Staley, and the rest of the USA Senior National team, who had been in New Orleans for an exhibition. It was an experience my daughter has never forgotten, and I was "made" to go buy an Indiana Fever #24 jersey immediately.
So on this Thanksgiving Day, I hope you have a wonderful day, and I hope you enjoy my discussion about the Catch the Stars Foundation, giving back to the world, and the off the court world of Tamika Catchings. If you want to hear about the Indiana Fever, I'm sorry, you'll be disappointed. This one time, the off the court activities take center stage, and I am thrilled to be able to provide it to you.