Florida Gulf Coast ties NCAA record for three-pointers in a single game, senior Kelsey Jacobson reaches 1K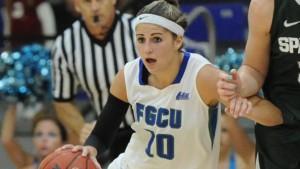 Florida Gulf Coast senior Kelsey Jacobson scored her 1,000th career point and the team tied the NCAA record for three-pointers made in a single game with 21 in a 106-27 win over NAIA foe Webber International (0-7) on Monday night at Alico Arena. The Eagles lead the nation in three-point field goals per game (13.0) and drained double digit three-pointers in four of their five games this season.
Jacobson has 1,007 career-points and became the fourth player in program history to score 1,000 career points.
The Eagless three-point record puts them in a tie for first place with New Mexico State. The Aggies made 21 treys against Louisiana-Lafayette on Feb. 23, 2002. FGCU's 21 threes are also an Atlantic Sun conference record. The team made six three-pointers in the first half and 15 in the second. Eight different players made at least one trey led by redshirt freshman Amber Rechis' career-best 6-of-11.
In their first season as a full member of NCAA Division I , FGCU is off to a 4-1 start. The team was tabbed in preseason polls to take the conference title this season. FGCU won the regular season title last season. The school was not eligible to play in the conference tournament due to NCAA transition period rules.