It wasn't a "Vison" or a "Classic" as UConn rolls through field over Thanksgiving weekend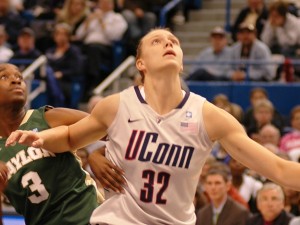 "When we're good we are pretty good and we're not we are something less than good. I don't know what that is. Sometimes when you're not good you're awful or you're just bad or sloppy. When we're good we're really good. When we're not playing well and we're not in sync we throw the ball away too much."
No one knows the second-ranked UConn Huskies like their coach Geno Auriemma and that quote after their blowout sweep of the "World Vision Classic" at Gampel Pavilion in Storrs, Connecticut sums things up very well. Rather than go Black Friday shopping in New Jersey, New York or Ohio, respectively, Fairleigh Dickinson, Buffalo and Dayton spent their Thanksgiving weekend facing an inconsistent UConn team (and each other) in the round robin tournament. The Huskies outscored their opponents by a total of 242-100, with an average margin of victory of 47 points. From the top off of the first game, the tournament was a bit of a yawner.
For a team like Dayton, preseason top pick in the Atlantic 10 conference, there is some benefit to a weekend like this. Entering the weekend after a pair of surprise losses, they manhandled Buffalo and FDU and despite the blowout loss to Connecticut, saw the level of execution they hope to achieve. Flyers coach Jim Jabir hoped his team learned from both the wins and losses.
"I think both are important," said Jabir. "The two games previous we played really hard. Today we couldn't run one offensive set because their pressure took us out of everything. It's valuable, because now we know what it feels like to play at another level. Hopefully we will learn from it and try to emulate it and play on that same level as they were. So both were valuable."
Because they have been so successful, it is easy to forget how young UConn's team is this season, which may be the primary cause of the inconsistent play. Tiffany Hayes is the only senior (Caroline Duty and Heather Buck are both red-shirt juniors), the weekend statistics really bear this out. Start with foul shooting, a Husky mainstay for years. In the three games, the team shot 8-19 (F.D.U.), 19-20 (Buffalo), and 21-27 (Dayton) from the line. Three point shooting improved from 2-13 versus FDU to 7-14 versus Dayton. Hayes scored nine, 30, and 10 points in the three games and freshmen Kaleena Masqueda-Lewis, after shooting so well against Stanford, opened the tournament making only 4-12 versus FDU, dropped to 0-8 versus Buffalo, and closed the weekend making 7-13 against Dayton.
There were positives for the Huskies, including the continued improved play by center Heather Buck, the confidence of Mosqueda-Lewis and the strong rebounding of Hayes. The Huskies will try to smooth out those wrinkles this week, as they head toward a big game December 6 with Texas A&M in Hartford. Doty said there is time and willingness to work on what needs improvement.
"We need to turn around and show that things happen and we just have to come back and respond. You are going to make mistakes, it is how you respond which is the important thing."