Monday night recap: UConn victorious, ACC upsets and tiny Tougaloo College takes down Jackson State
November 21, 2011
No. 2 UConn 68, No. 3 Stanford 58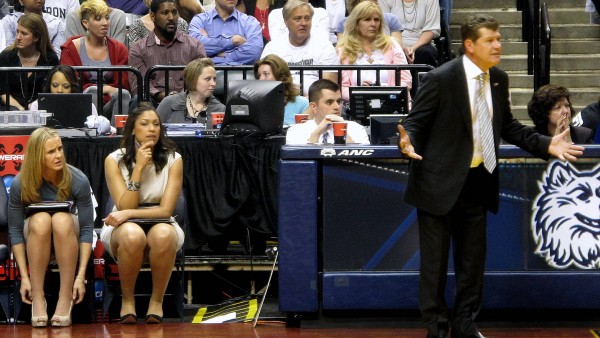 Although both teams had trouble creating an offensive rhythm early in the game, No. 2 UConn emerged victorious in Monday night's big matchup against No. 3 Stanford, 68-58. Heralded Husky freshman Kaleena Mosqueda-Lewis had a accolade-laden night leading her team with 25 points and eight rebounds.
"I think at this time of the year, what you saw in the first five minutes of the game, offensively it is hard to have any kind of rhythm," said UConn head coach Geno Auriemma. "I'm not surprised that we played pretty well defensively. I am surprised that we were able to be as effective as we were because the size advantage was against us. But we played so hard for 40 minutes and that's one of the better defensive efforts I have seen us have in a long time. I was pleasantly surprised by that."
Sophomore Bria Hartley added 19 points for UConn while Tiffany Hayes had nine points and 13 rebound and Stefanie Dolson put up nine points and pulled down nine rebounds.
Stanford battled foul trouble as both Chiney and Nneka Ogwumike ended up with four personal fouls in the game. Nneka led the Cardinal with 22 points and eight rebounds. Jasmine Camp had 14 pionts. Chiney Ogwumike only finished with seven points but managed to grab 12 rebounds.
Stanford remains on the road and travels to Xavier for a afternoon game on Friday. UConn host Farleigh Dickinson on Friday evening.
Postgame: Quotes || Statistics
Other Monday Night Top 25 Scores
No. 21 Georgetown 64, Monmouth 44
No. 20 LSU 80, Arkansas Pine Bluff 28
Upsets
In the world of mid-majors and unexpected upsets, surprises included ACC teams suffering defeat at the hands of small colleges and a tiny NAIA college taking down an NCAA Division I team.
In the first upset, William & Mary defeated Virginia Tech 78-59. Janine Aldridge led the Tribe with 20 points, 11 rebounds and four assists.
Next Clemson could not overcome MEAC school NC A&T. The Lady Tigers lost 76-66 to the Lady Aggies. Tracy King led A&T with 26 points.
In the most amazing upset of the night, tiny Tougaloo College, an NAIA school in the Gulf Coast Athletic Conference, took down NCAA Division I team Jackson State, a SWAC member. Portia Craft led the Bulldogs with 23 points.
Both Tougaloo and Jackson State are historically black institutions but Tougaloo has only 918 students and is known for its health programs. Over 40 percent of the African American dentists and physicians in Mississippi received their undergraduate education at Tougaloo.